The first time you run Intego VirusBarrier X9, you will be asked what level of protection you would like to use. The default protection level is Standard and is recommended for most users.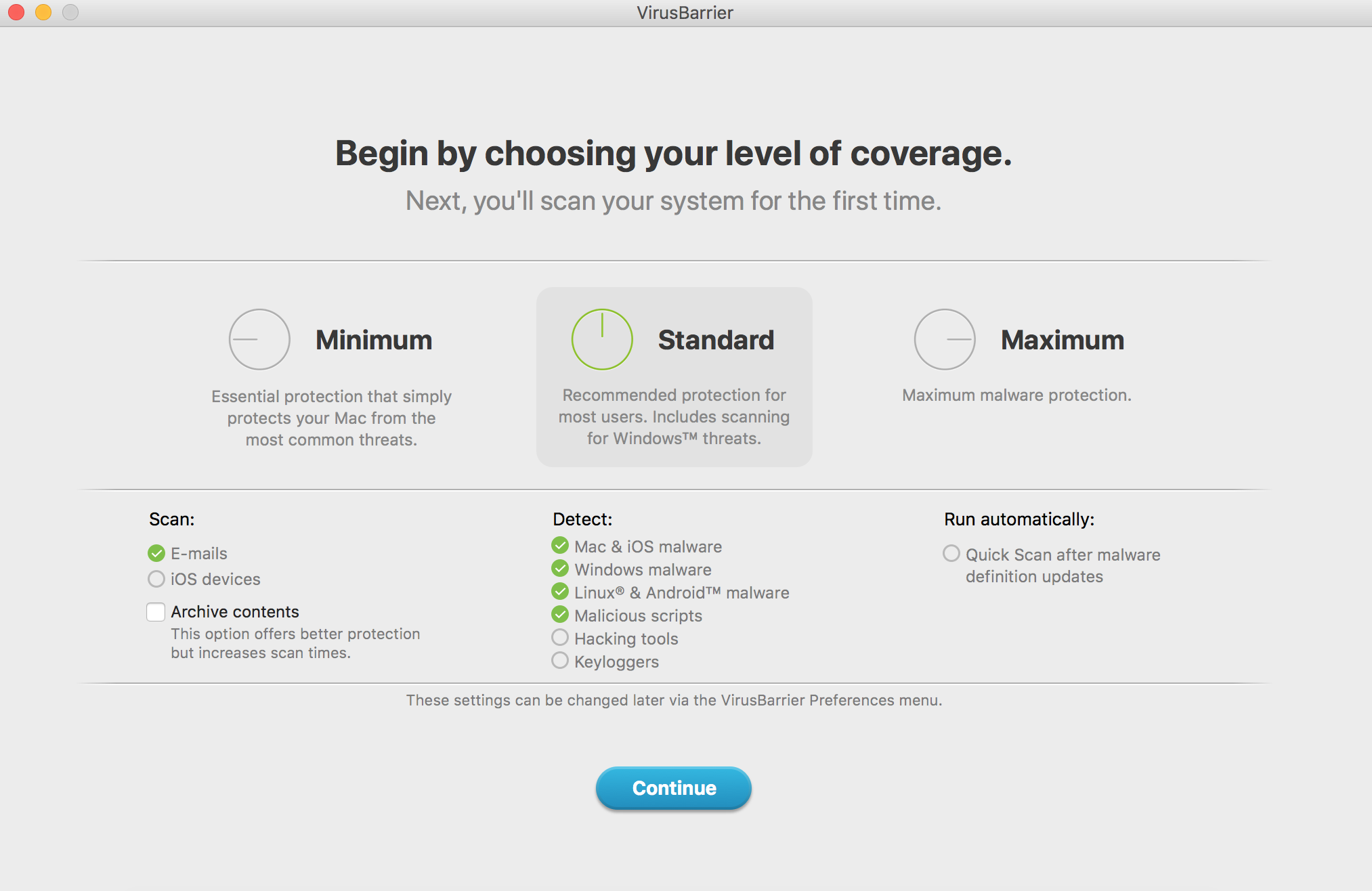 Minimum: Provides essential protection that protects your Mac from the most common threats. With this setting, VirusBarrier will scan for Mac OS X malware and viruses and malicious scripts.
Standard: Recommended protection for most users. With the Standard Protection setting, VirusBarrier will scan for Mac OS X, Windows, and Linux malware. It will also scan for malicious scripts and scan your e-mails and attachments for potential infections.
Maximum: This setting enables all of VirusBarrier's features and options. VirusBarrier protects against Mac OS X, Windows, and Linux malware, Malicious Scripts, and E-mail protection. It will also enable the following features: Scan your iPhone, iPod touch, and iPad for malware when they are connected to your computer, run a Quick Scan after malware definition updates, scan for Hacking tools, Keyloggers, and Scan Archives. Warning: Enabling Maximum Protection may impact computer performance. If you experience degradation in your computer's performance while using Maximum Protection you may want to choose another option.
You can find more information about each of these features in the VirusBarrier Preferences section of this manual.
Real-Time Scanner: All of the default protection options provided will enable Real-Time Scanning. Real-Time Scanner constantly watches over your Mac, protecting you from viruses and malware. It ensures that your Mac is protected at all times by scanning every file that is created, copied, modified or saved. It does not, however, scan other files. This is why we suggest you run a full scan of all your files when you install VirusBarrier and after each update to the program's virus definitions. You can also use VirusBarrier's On-Demand scanner to check any file, folder, disk, or volume on your Mac.
You can always change your level of protection by selecting 'Reset VirusBarrier...' from the VirusBarrier menu.