One of the top concerns of parents today is that their child could be exposing personal information online; especially to strangers they do not know. Most people are not aware that by using peer-to-peer sites to downloaded pirated software, they are inadvertently revealing the contents of their computer to everyone else who uses the site – potentially exposing personal information.
If you've already installed ContentBarrier, you're well on your way to protecting your household's personal information. ContentBarrier can filter file transfer software, which is often used to share files over the Internet.
To activate file transfer filtering for a selected user, open ContentBarrier and select the Configuration > Advanced tab. Then under File Transfers, check the Block peer-to-peer and/or Block FTP box.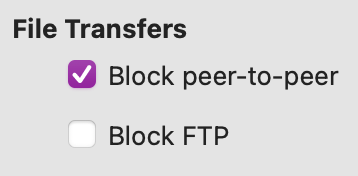 Enabling this feature blocks certain types of Internet communication, such as peer-to-peer and other file sharing protocols. There are no other options for file transfer filtering – it is either active or inactive.
Need Help Using ContentBarrier?
If you still have questions about using our ContentBarrier software, please check our ContentBarrier Knowledge Base for answers to the most common questions by clicking the link below:
You can also contact our Support Team directly for assistance by completing a support ticket online here:
Our Mac experts are here to help!