No two kids are alike. Each of your children has a different maturity level and deserves a different type of Internet access. Instead of having your older son scowl at your for treating him like a "baby" for setting the same restrictions as his little sister, you can assign each of them a unique profile. That way, your teenager can get online to do homework and play games while your youngest can print a coloring sheet or watch her favorite cartoon.


Refining User Configurations
You've seen how to use the ContentBarrier Setup Assistant to create and configure your users, in the section Using the Setup Assistant. You can also make changes to these configurations from ContentBarrier's main window, which provides access to more detailed configuration options, as well as an overview of your users' settings and a summary of their past activities.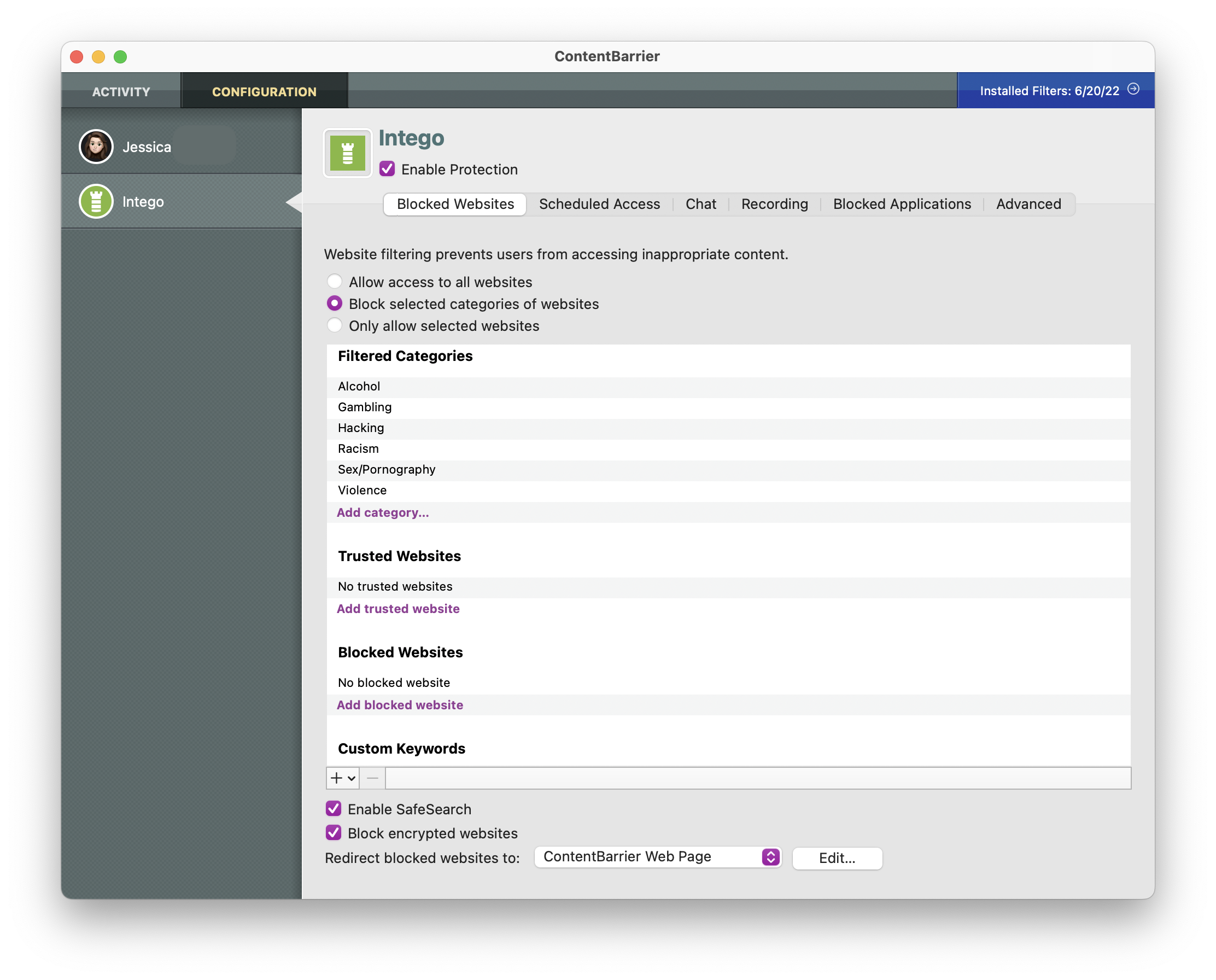 The above screen displays whenever you launch ContentBarrier, and its contents correspond to the user selected in the Users list. It shows you the following:

• User information: at the top of the screen, you see the user's name, whether that user's Internet access is being filtered, and whether you're receiving reports on that person's Internet usage. You also see a silhouette for the user, or a photo, if you have set one.

• Filter settings: the middle section shows the current settings for each of ContentBarrier's filters. A colored dot next to each one gives you information about the
type of filtering: green means there are no restrictions or monitoring, orange means there are some restrictions, and red means access is being blocked or tracked. Texts next to each filter icon give you more information about the filter and its settings.
Need Help Using ContentBarrier?


If you still have questions about using our ContentBarrier software, please check our ContentBarrier Knowledge Base for answers to the most common questions by clicking the link below:
You can also contact our Support Team directly for assistance by completing a support ticket online here:
Our Mac experts are here to help!