To understand how Washing Machine works, we're going to clean a single item: the Download History of Safari, the web browser that comes with your Mac. Doing so will make it impossible for you-or anyone else-to see what files you've downloaded with Safari.
WARNING: Cleanings are irreversible. If you need to keep a record of files you've downloaded in Safari, do NOT follow these directions.
Before we begin, let's take a quick look at how Safari works to understand what we're cleaning.
Launch Safari, either by clicking its icon in the Dock, or by double-clicking its icon in the Applications folder. When Safari is open, choose Windows > Downloads to see the Downloads window. You'll see a window that looks something like this: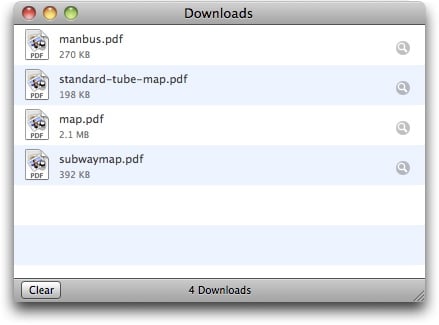 Your window probably looks very different, as it lists files that you have downloaded from web sites using Safari since the last time the list was cleared. If the window is blank, don't worry: it just means you haven't downloaded any files with Safari, or that you clicked the Clean… button at the bottom of the download window to delete the list. You can either download one now as a test, or just continue reading without going through the steps.
Now quit Safari and launch Washing Machine.
In the upper pane, click on Download Histories, then click on Safari in the lower pane. You should see something like this: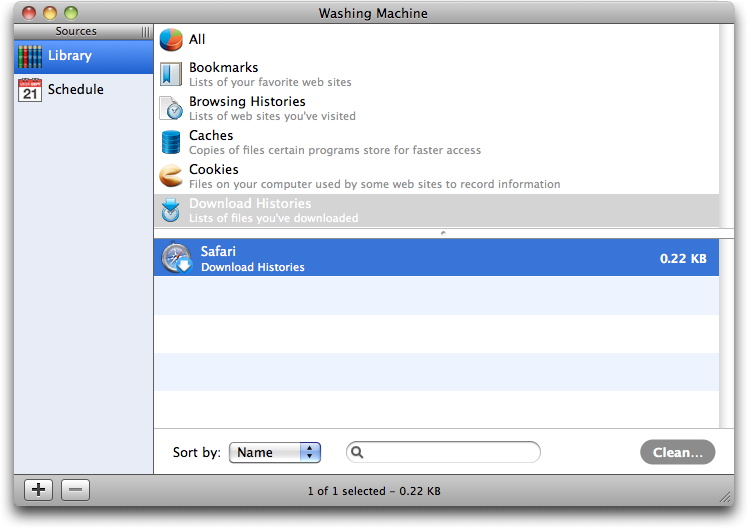 Now do one of the following:
Click the Clean… button in the bottom-right corner;
Choose, in the menubar, Clean > Clean…, or
Control-Click on the item and choose Clean… from the contextual menu that displays.
A dialogue displays asking for confirmation:

Click Clean and you're done! Let's make sure that it really worked by relaunching Safari and looking at the Downloads window. It should look like this: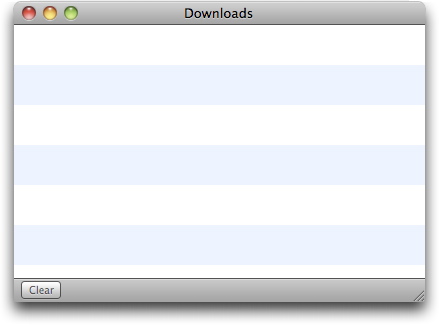 (If it doesn't, you probably didn't quit Safari before cleaning its Download History. Washing Machine did its job correctly, but Safari didn't update its window.)
One last thing: if you look at Safari's Downloads window, you'll notice that there's a Clear button in the bottom-left corner. Clicking this button accomplishes the same task. Where Washing Machine shines is in its ability to clean multiple files from multiple applications: that's what we're going to look at next.