Let's say you want to remove all traces of the web sites you've browsed using Safari. To do so, highlight the items that belong to Safari, then click Clean… as before. Here's how:
1. Click All in the Categories pane.
2. Make sure that Sort by: Name is selected and the search box next to it is empty.

3. Scroll down until you see all the Safari Items grouped together. In the example below there are only four; in this case, Safari's Download History had been recently cleaned, so it doesn't show up in the list.
4.Click the first one, hold down the Shift on your keyboard, then click the last one. All the Items in between will also be selected. Alternately, hold down the Command key (the one with the little apple on it) and click each of the items in turn.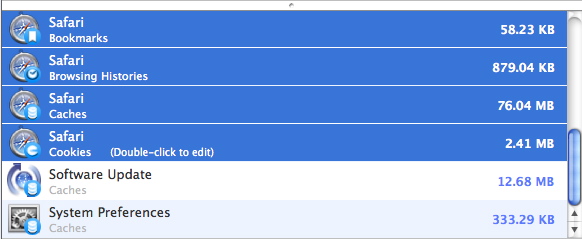 Click the Clean… button as before. You'll get the same confirmation message; click on OK. Washing Machine cleans all the selected items.
REMINDER: As always, cleanings are irreversible. Be sure you really want to clean the selected items before you click Clean!
There's an even faster way to find all the Safari items. In the search box at the bottom of the screen, start typing the word "Safari"; all other items will disappear from the list. You can then select the remaining items as described above. Or better yet, grab them all at once by clicking anywhere in the Items list and then either pressing Command-A or choosing Edit > Select All.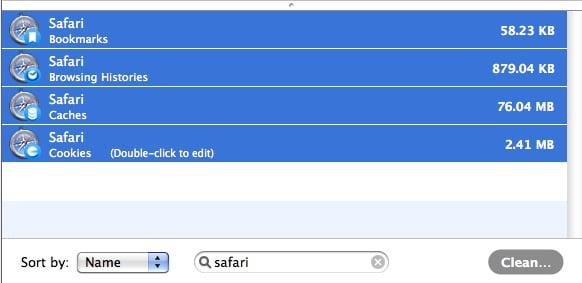 To see all items again, either erase what you've typed in the search box, or click the little x.
Now let's say you want to do something different: delete all the Caches from all your web browsers. There are two ways of finding just those items:
Start typing "Caches" in the search box
Click the Caches icon in the Categories pane
You can then select and clean those items as described above.