There are many things that can influence VirusBarrier's scan behavior. This can cause a scan to appear stuck, or give a failed or incomplete result.
Here is a list of settings and features to check if you are having issues with VirusBarrier scans.


Sleep/Wake Status of Mac
VirusBarrier scans may appear to hang or be stuck after your computer wakes from sleep.
This is because VirusBarrier cannot scan while the Mac is asleep. Scans must be run while the Mac is fully logged in and awake. Try the scan again during a time where the Mac will constantly be awake and has no possibility of falling asleep.
You may need to change the display or power settings on your Mac to prevent this from occurring.
Scan Type
There are 2 types of manual scans that can be run with VirusBarrier.
VirusBarrier lets you run Quick Scans, which scan only those locations where malware is commonly found. The locations for the files and folders scanned may change as new malware appears, and newer versions of VirusBarrier's virus definitions are released and downloaded.
You can also run a Full Scan with VirusBarrier whenever you want. You should do this immediately after installation to ensure that you don't have any infected files. After that, VirusBarrier's Real-Time Scanner ensures that any new files you add to your Mac are safe.
If you notice that Full Scans are failing or result as Incomplete, try a Quick Scan and see if the scan completes successfully.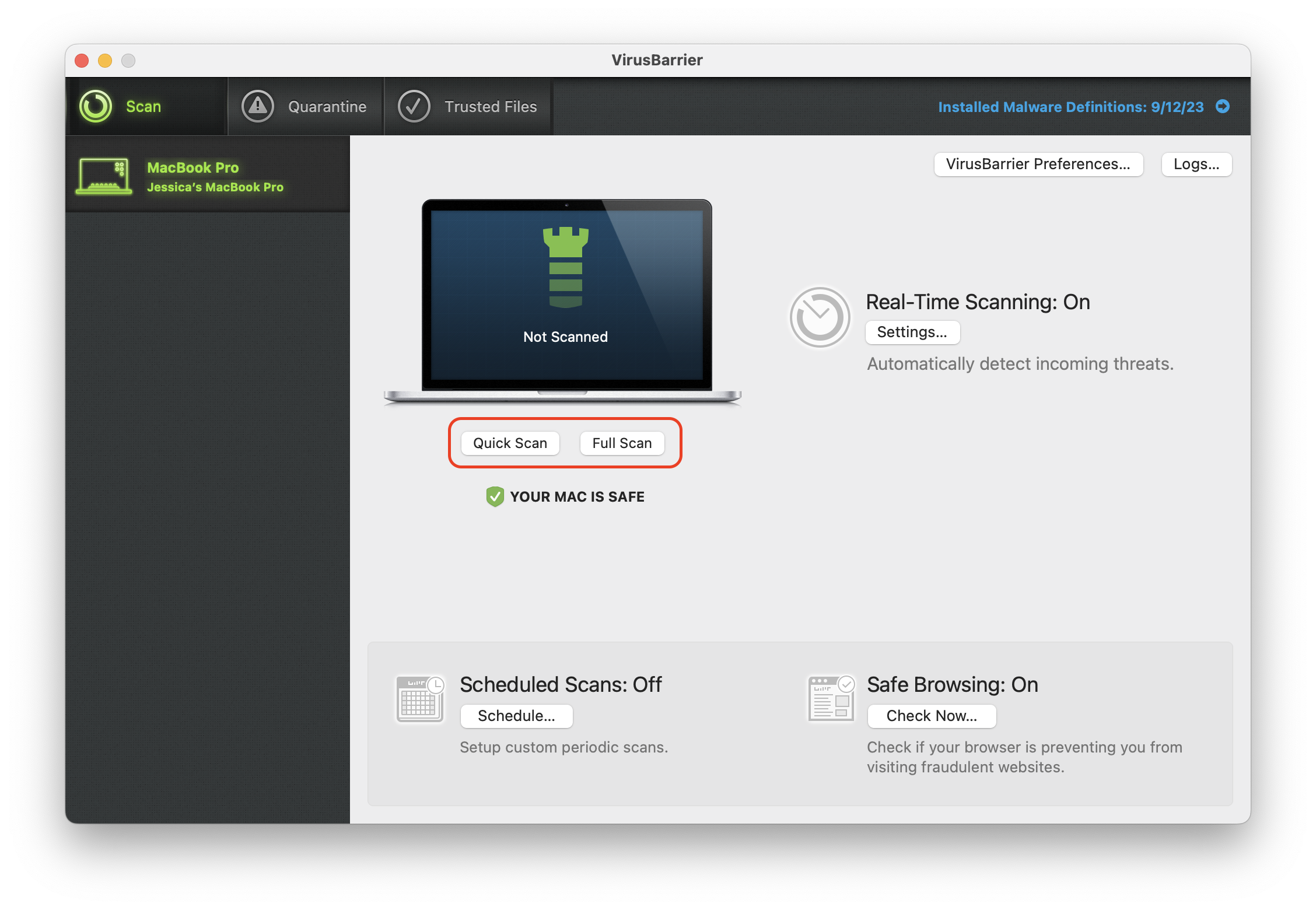 Disconnect External Devices
External devices can impact scan performance. VirusBarrier will attempt to include these exteral devices during each scan attempt.
Depending on the formatting of these external devices, VirusBarrier may or may not be able to scan them. This can result in the scan to appear stuck or cause it to fail.
Disconnect all external devices, including external storage devices like hard drives, or any other device connected via USB and reattempt the scan.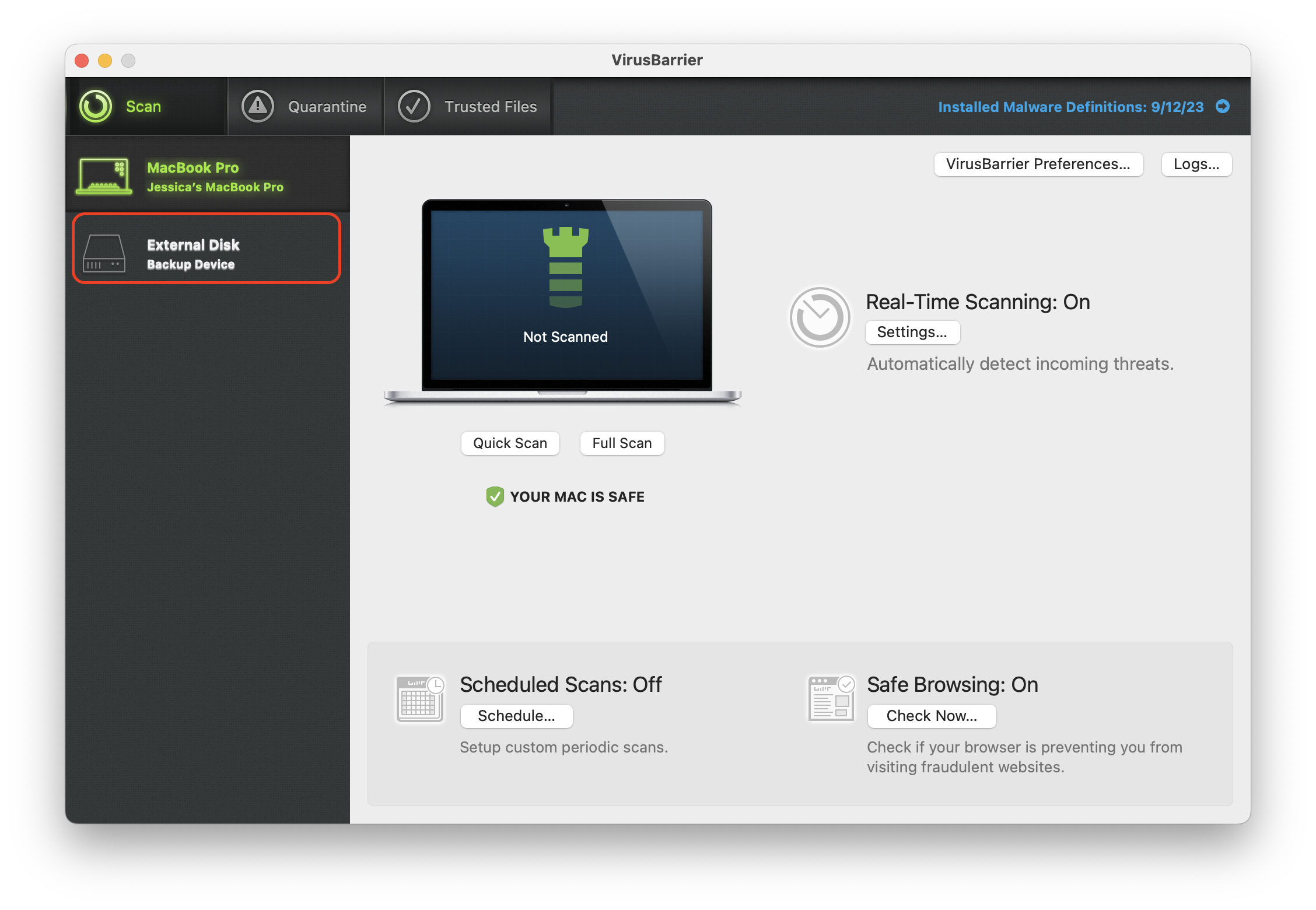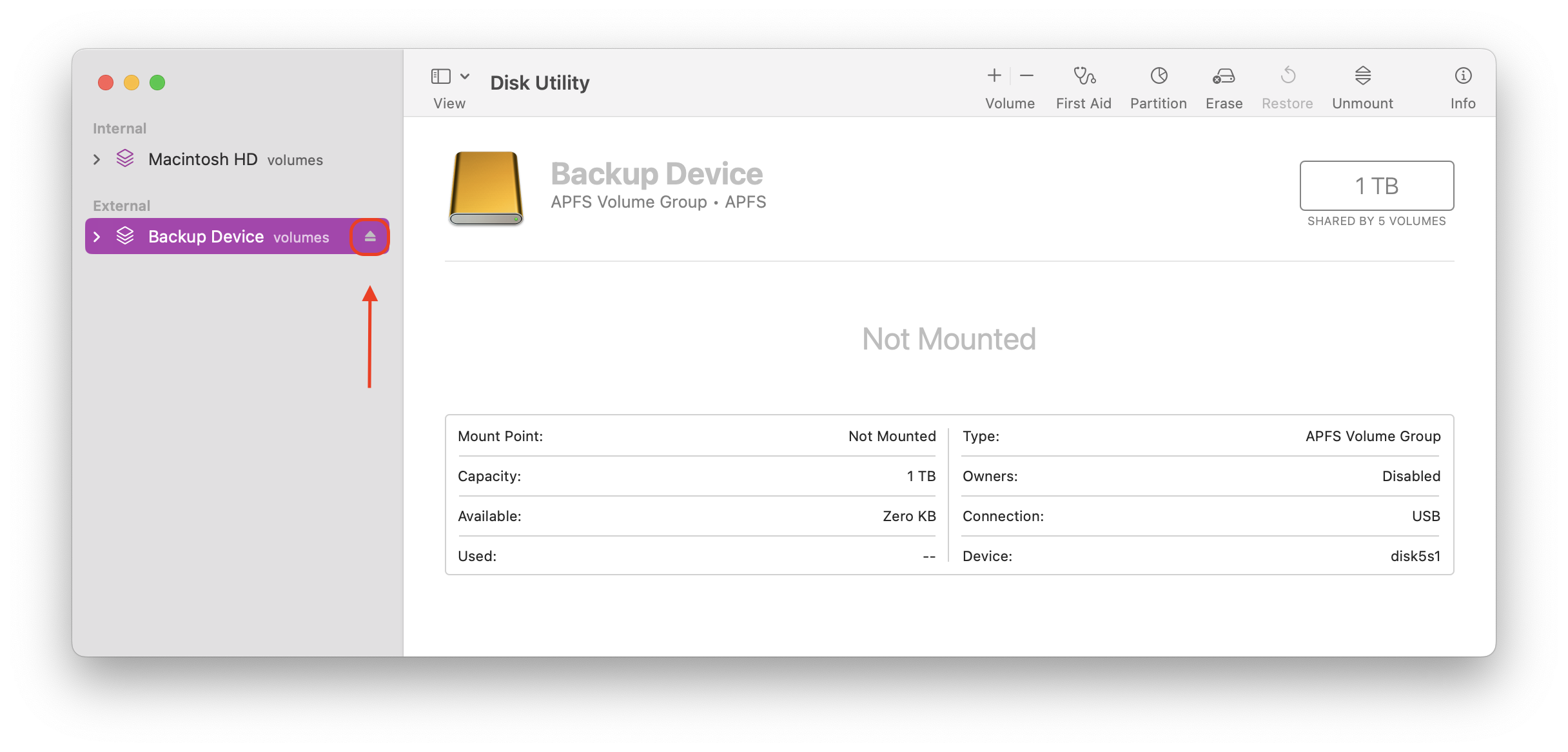 Disable Scan Archives
VirusBarrier scans a multitude of file types, including archives. Archives are files that are rarely, if ever used, which are compressed so that they do not take up a lot of space on your Mac.
During the scan process, VirusBarrier must decompress these files, scan them, and then compress them again. This process can be lengthy and cause timeouts when scanning certain archived file types.
It is not necessary to repeatedly scan archived files, since they are never moved or modified (and if they are, VirusBarrier's Real-Time Scanner would immediately scan them for malicious content).
Disabling VirusBarrier from scanning archives can improve the scan performance and allow it to complete as expected.
To disable scanning archives, open VirusBarrier Preferences, and navigate to the Scanner tab, then uncheck the box next to Scan Archives.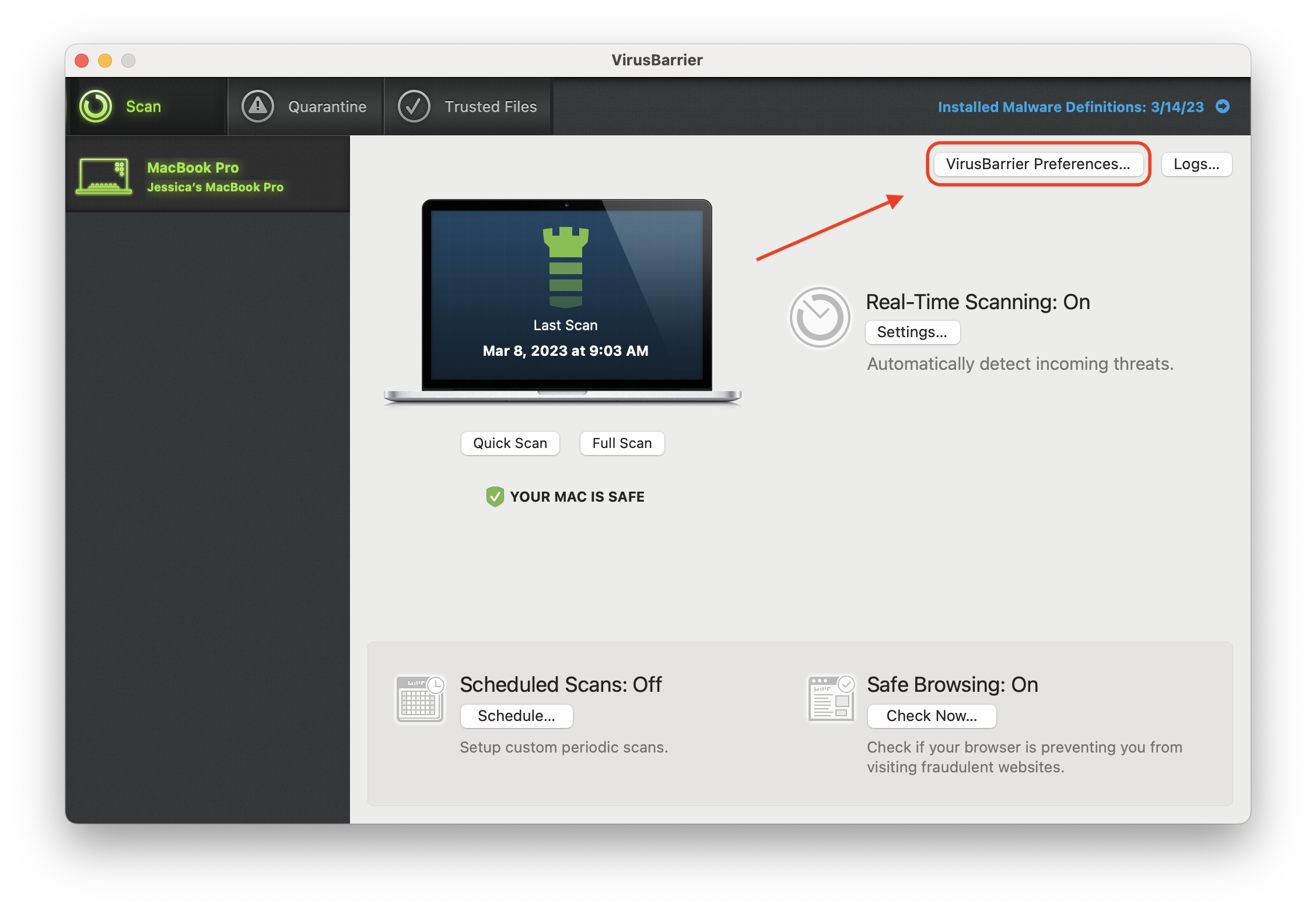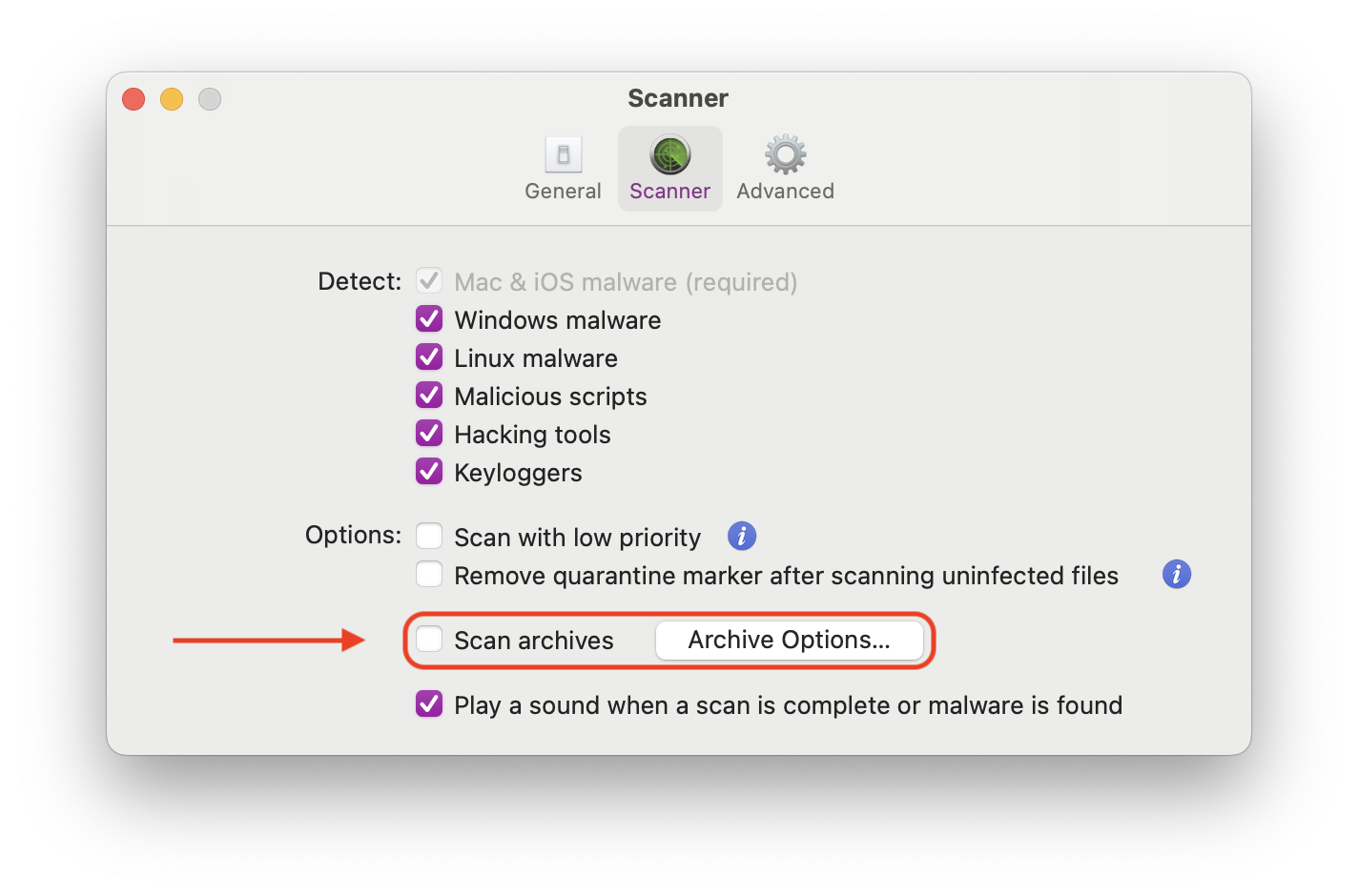 Disable Windows Malware Scanning
VirusBarrier will also scan your Mac for Windows based malware.
Our malware definitions include Windows based malware as a proactive measure. Windows malware is not harmful to Mac systems, since these files cannot open or execute. However, VirusBarrier will still detect and remove these files so that you don't accidentally share them with a Windows user.
For troubleshooting purposes, you can disable this option, to see if it has an impact on the scan issue.
To disable scanning for Windows malware, open VirusBarrier Preferences, and navigate to the Scanner tab, then uncheck the box next to Windows malware.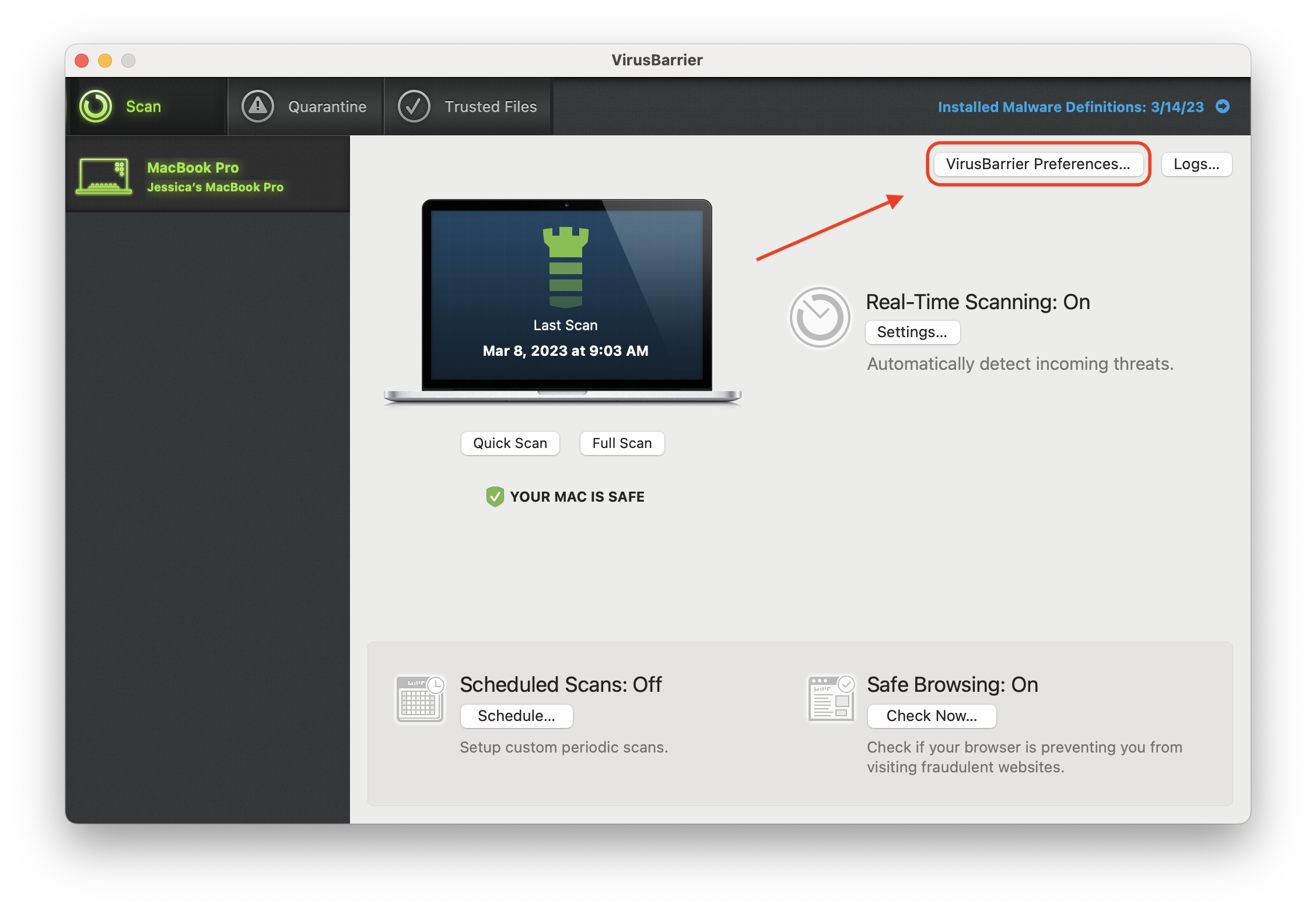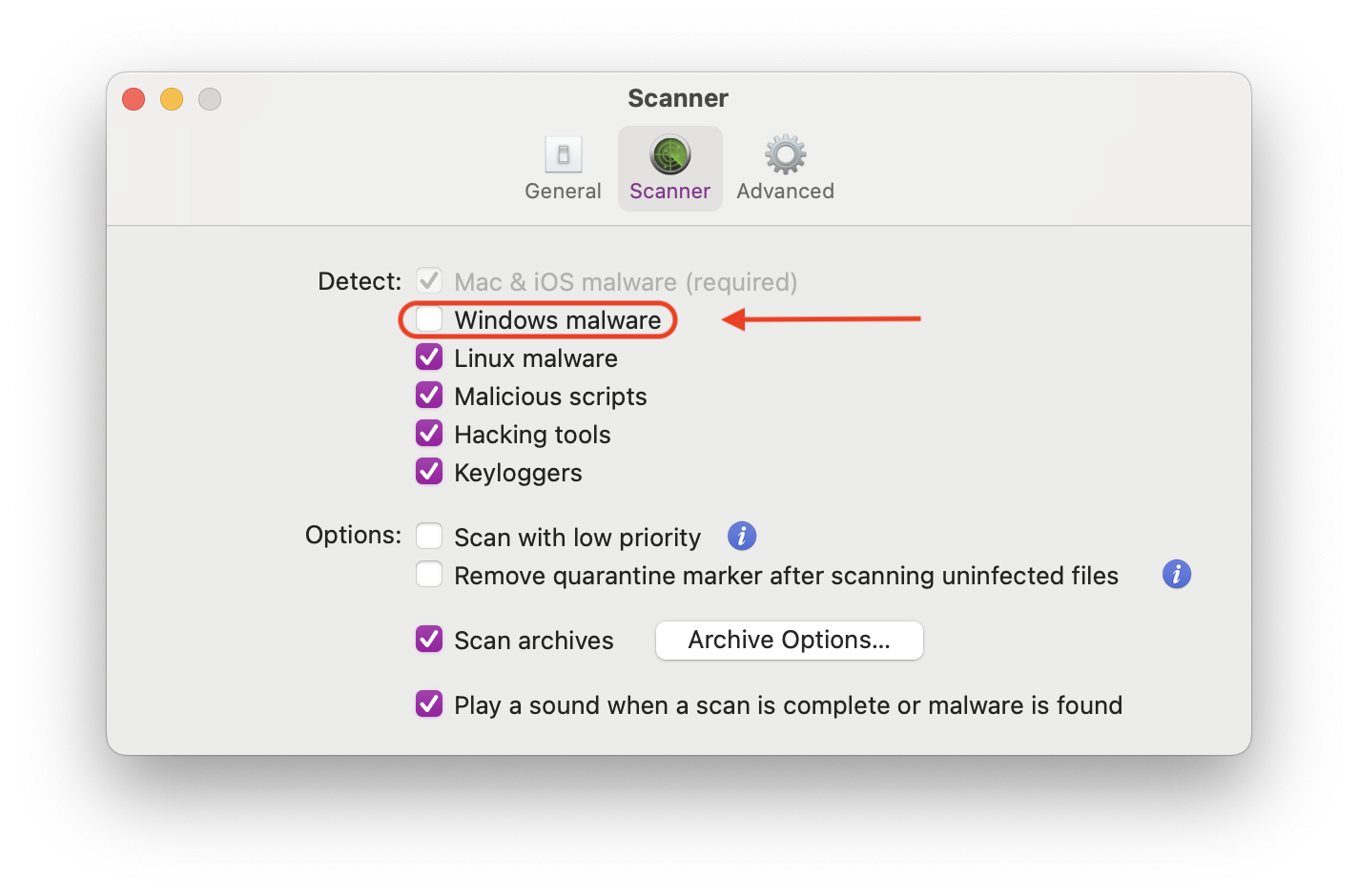 Contact Intego Support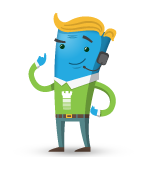 If you still have questions about scanning your Mac and cannot find the answer in this article or our Knowledge Base, please contact our Support Team directly for assistance by completing a support ticket online here: