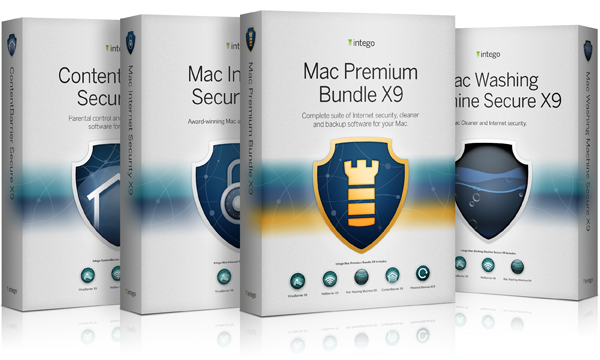 The Intego Getting Started Guide provides information that is common to all Intego X9 programs. No matter which Intego software you are using, this manual provides valuable information for installing and working with your software.
Table of Contents
System Requirements
Installing Intego Software
Where To Find Your Intego Software
Setting Up Your Intego Account
Serializing Software
Enabling Full Disk Access
Evaluation Mode
Scanning Your Mac With VirusBarrier
Software Updates
Uninstalling Software
User Manuals
Technical Support
System Requirements
macOS 10.13 or higher
1.5 GB of available hard disk space
Internet connection required for activation and NetUpdate security updates
Installing Intego Software
To download your Intego software, click the link in the email you received at the time of purchase or by downloading the software from our website:
Once your download is complete, double-click the .DMG file to open. By default, this file is located in your Downloads folder. Please check your web browser preferences to confirm the location of downloaded files.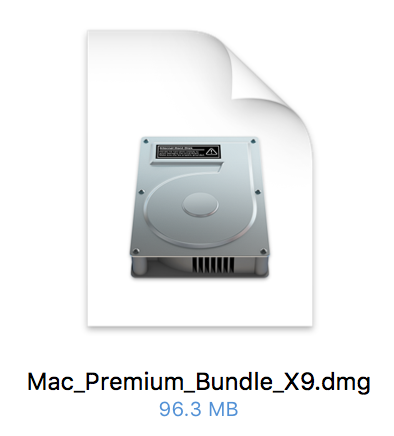 Now, simply double-click on the Installer.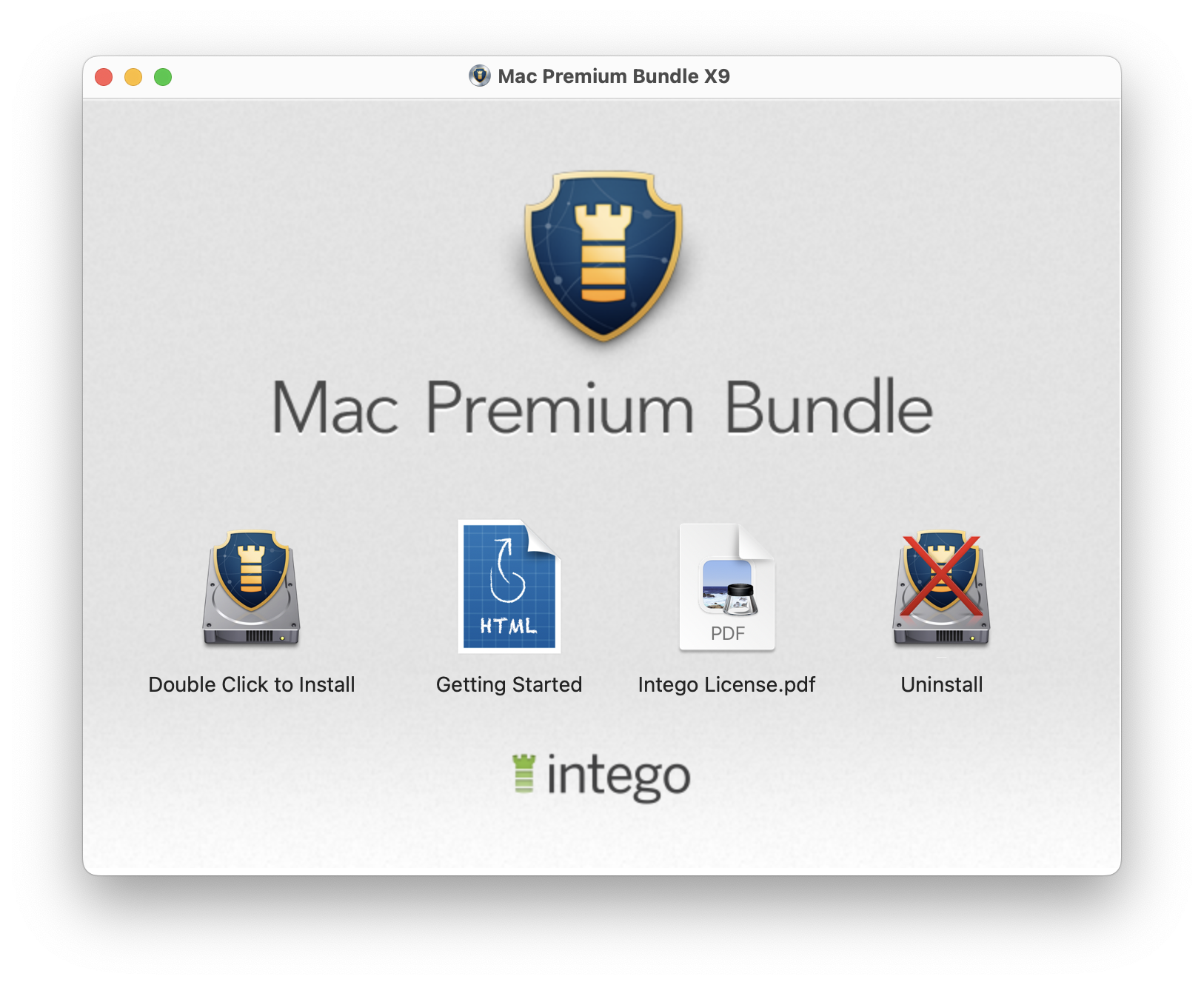 This will guide you through the installation process. You will be presented with a License Agreement and be asked for your computer's macOS administrator password. Once your Intego software has been successfully installed, you will see the following screen.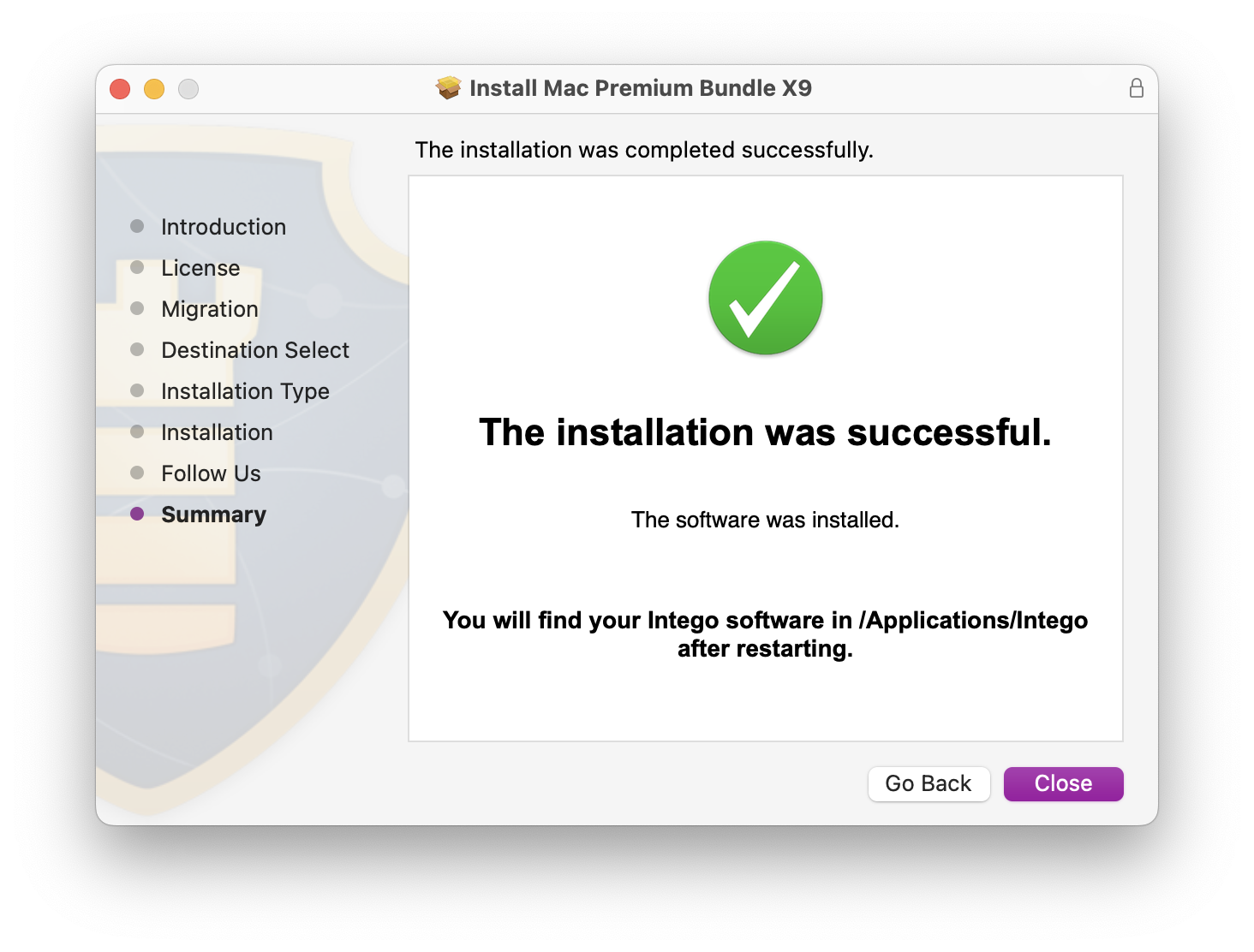 Still need help downloading and installing your software? Try reviewing the following guide:
Where To Find Your Intego Software
Once you have installed your Intego software, there are several ways to find and launch your applications. You can click on the "Intego Tower" icon at the top right corner of your menu bar, select the application you would like to open, and choose 'Open (Application Name)...' as seen below.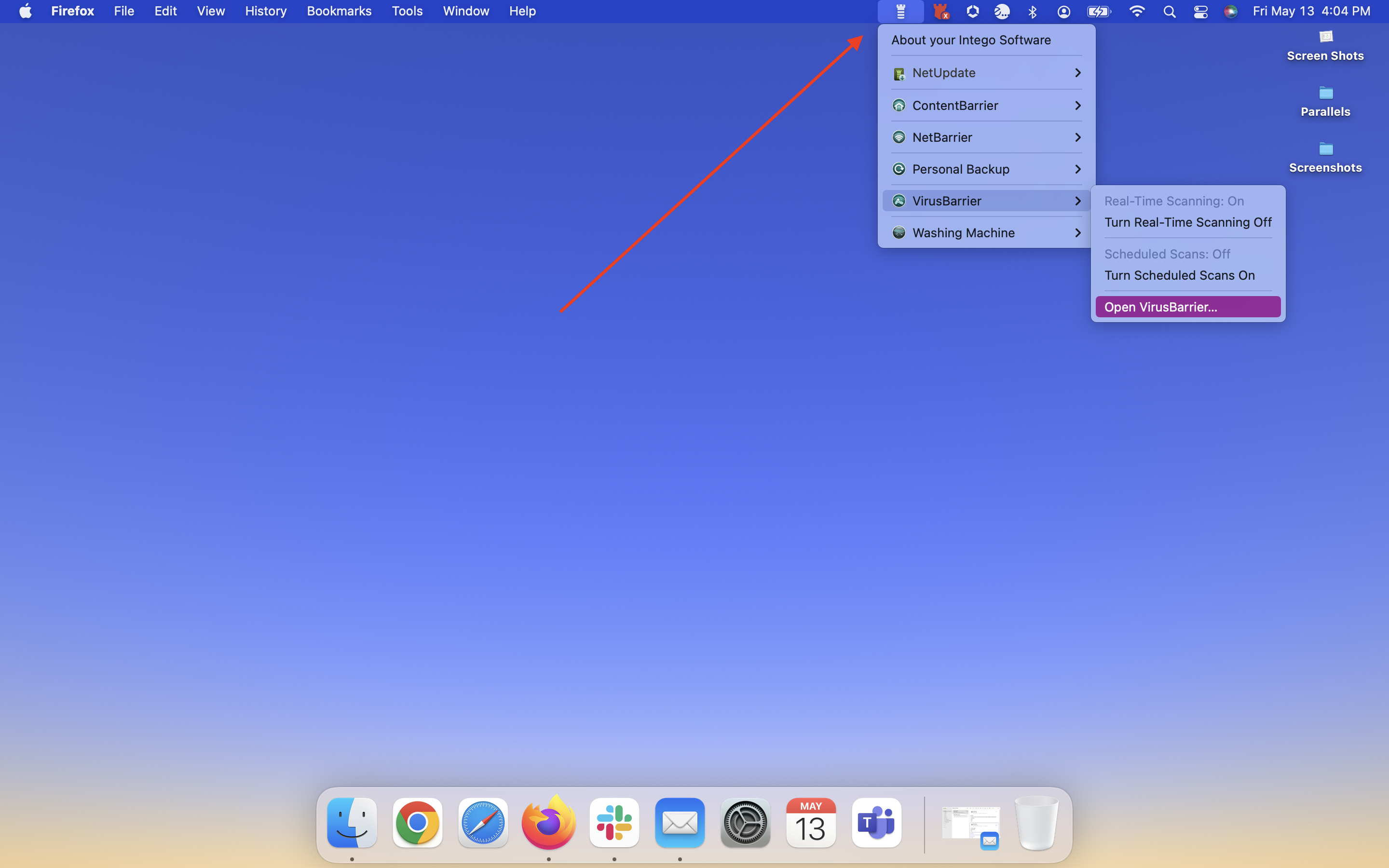 Your software can also be found in the Applications > Intego folder. Open a new Finder window and navigate to the Applications folder.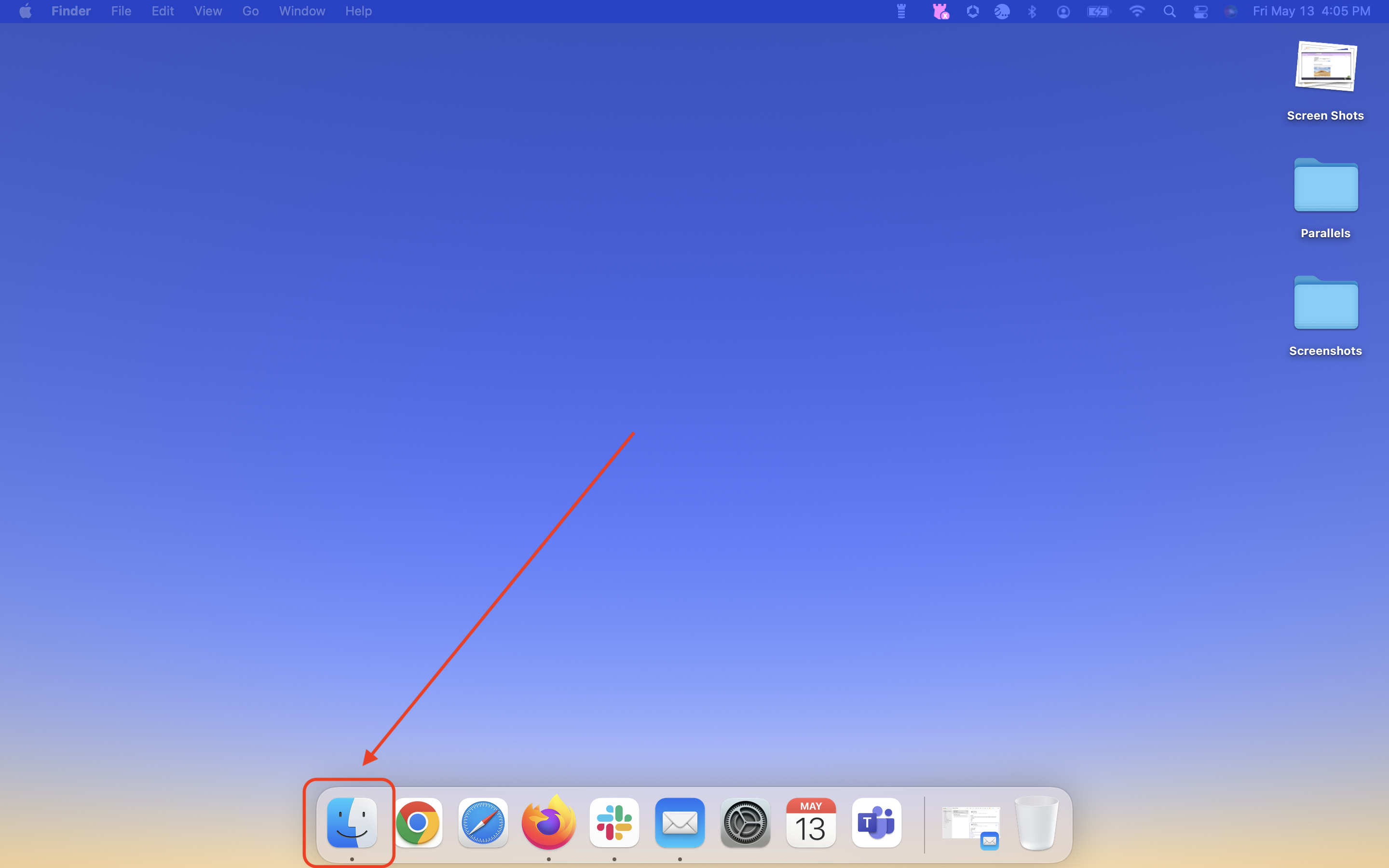 Next, find your Intego folder and open it to see all of your software.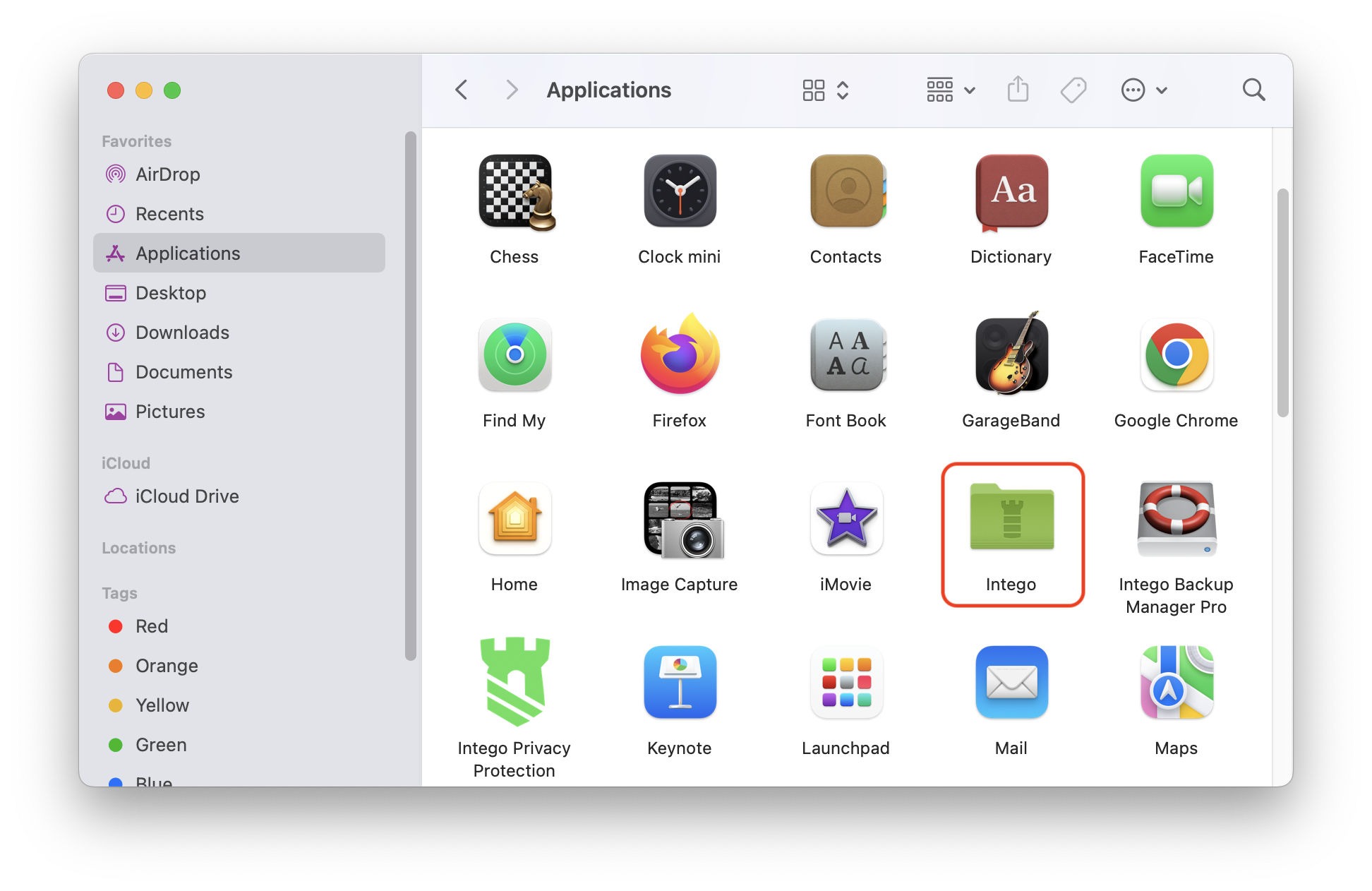 Here you will see a list of all of your Intego applications.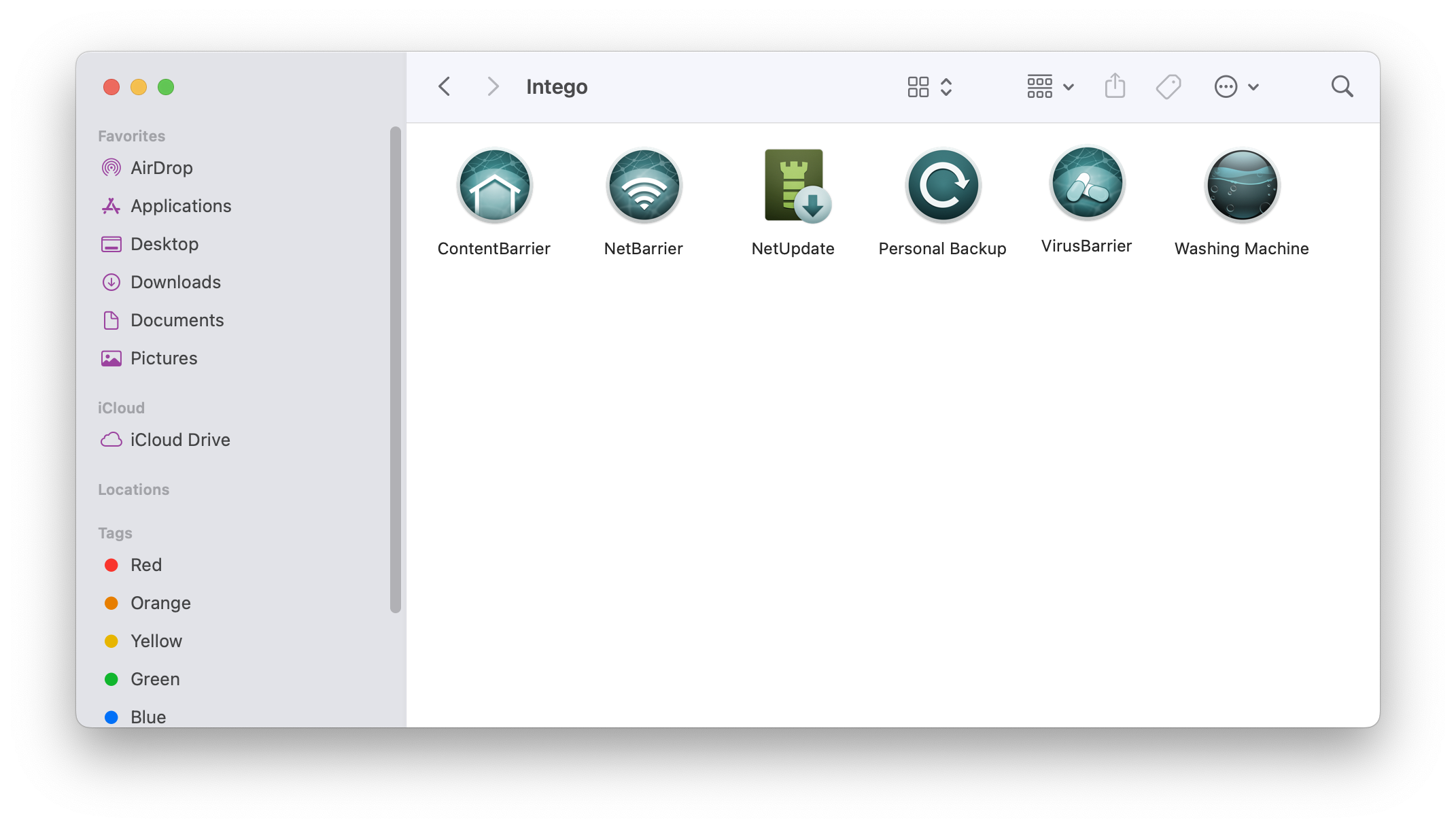 With an active Intego subscription, you have the option to access all of your subscription information, download links, payment information and account services via the Intego Account Portal.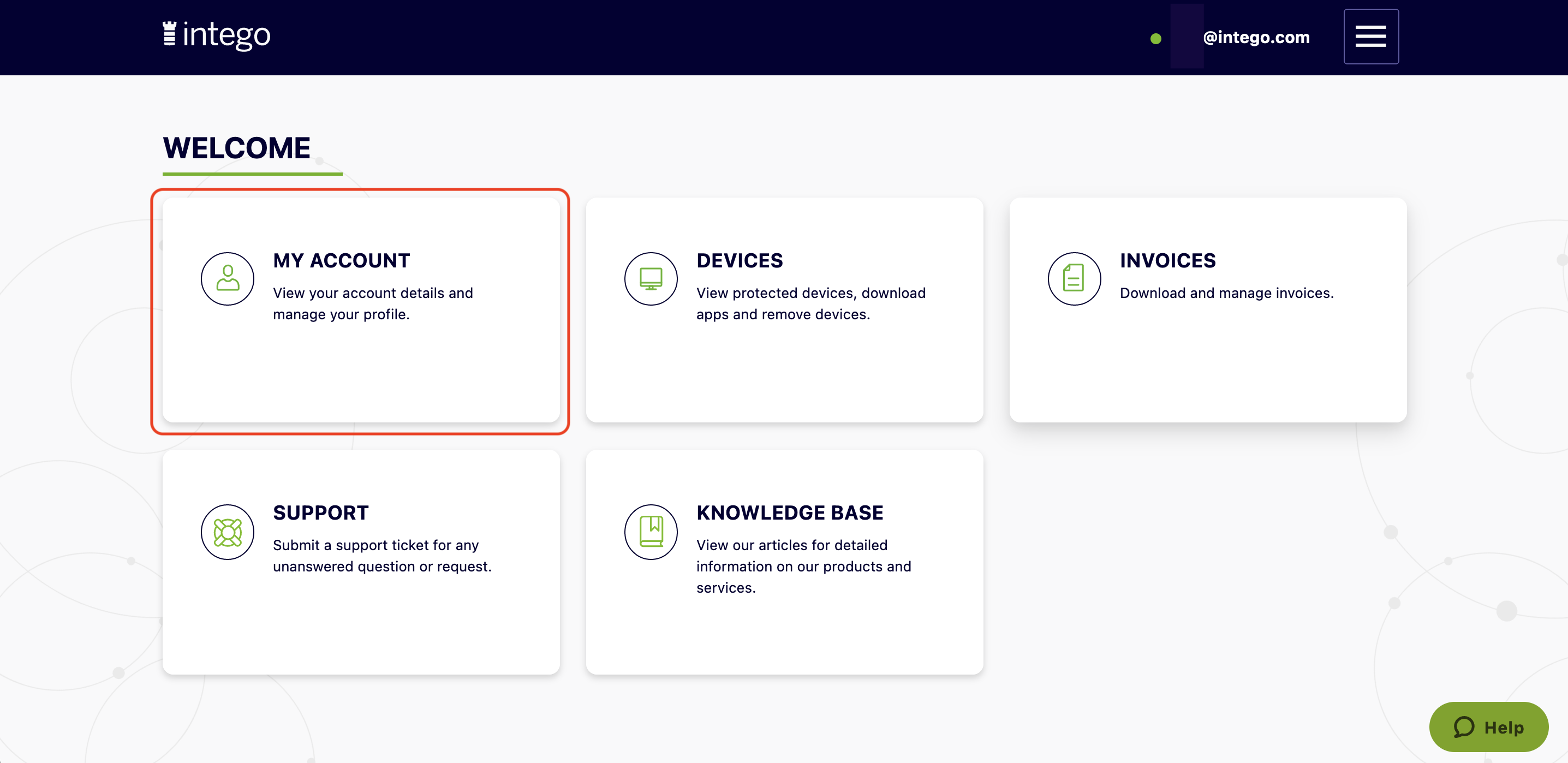 Please note that registered devices will only appear under the Devices page of the Intego Account Portal once you have serialized the software and entered your email address for registration. You can find the steps for serializing your Intego software in the next section of this guide.
Serializing Intego Software
When you launch an application for the first time, the program will display its serialization window: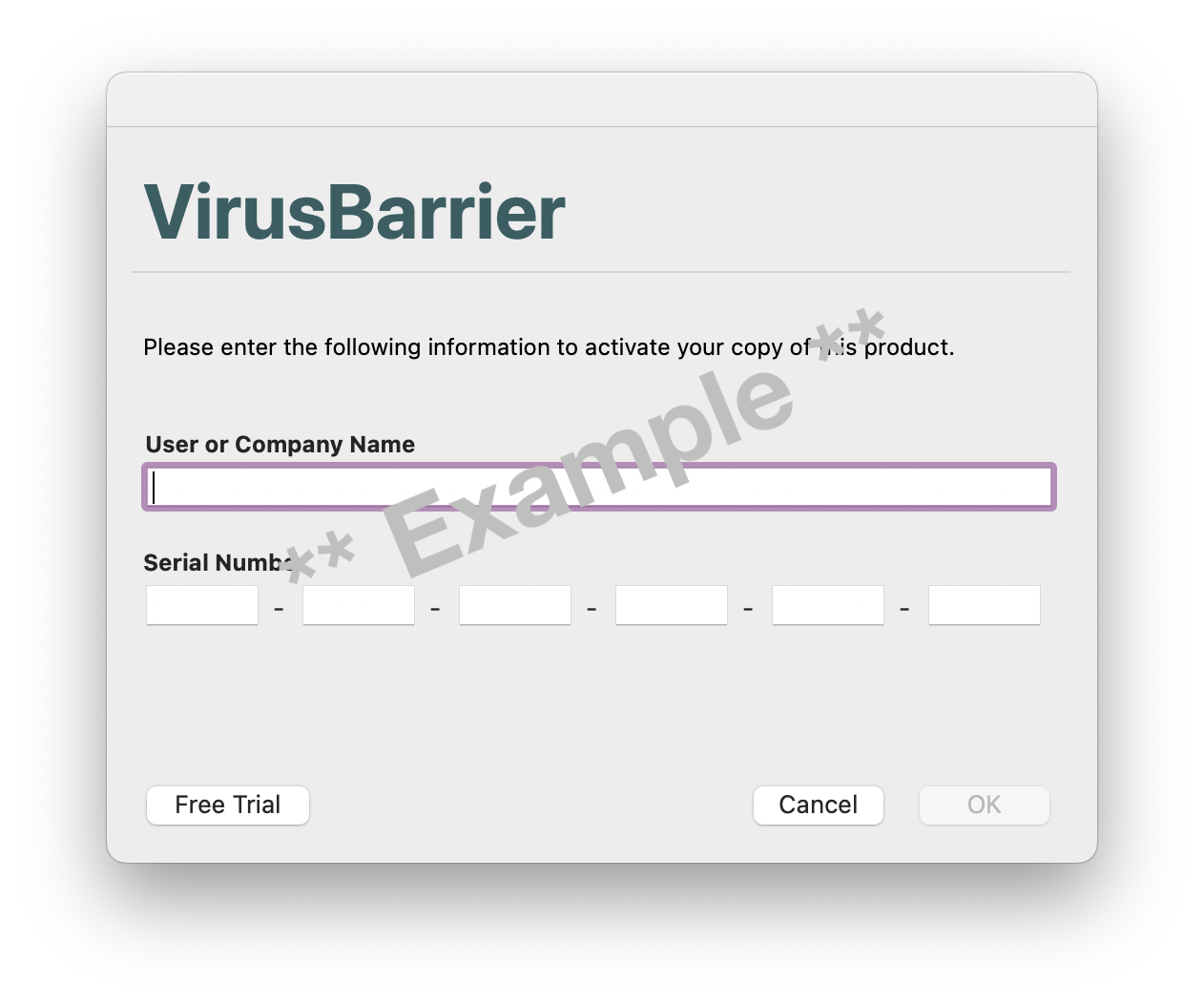 Enter your name or company name and your serial number. These fields are both required. If you purchased a downloadable version of the software, your serial number was sent to you in an email confirmation at the time of purchase. You can also locate your serial number(s) by logging in to your Intego Account online. When you have entered this information, click OK. The program will now open.


Enable Full Disk Access

If you are running the Intego software on a Mac that has macOS 10.14 or higher, you will also need to grant Full Disk Access to VirusBarrier. Follow these steps to enable Full Disk Access on Macs running macOS Sonoma: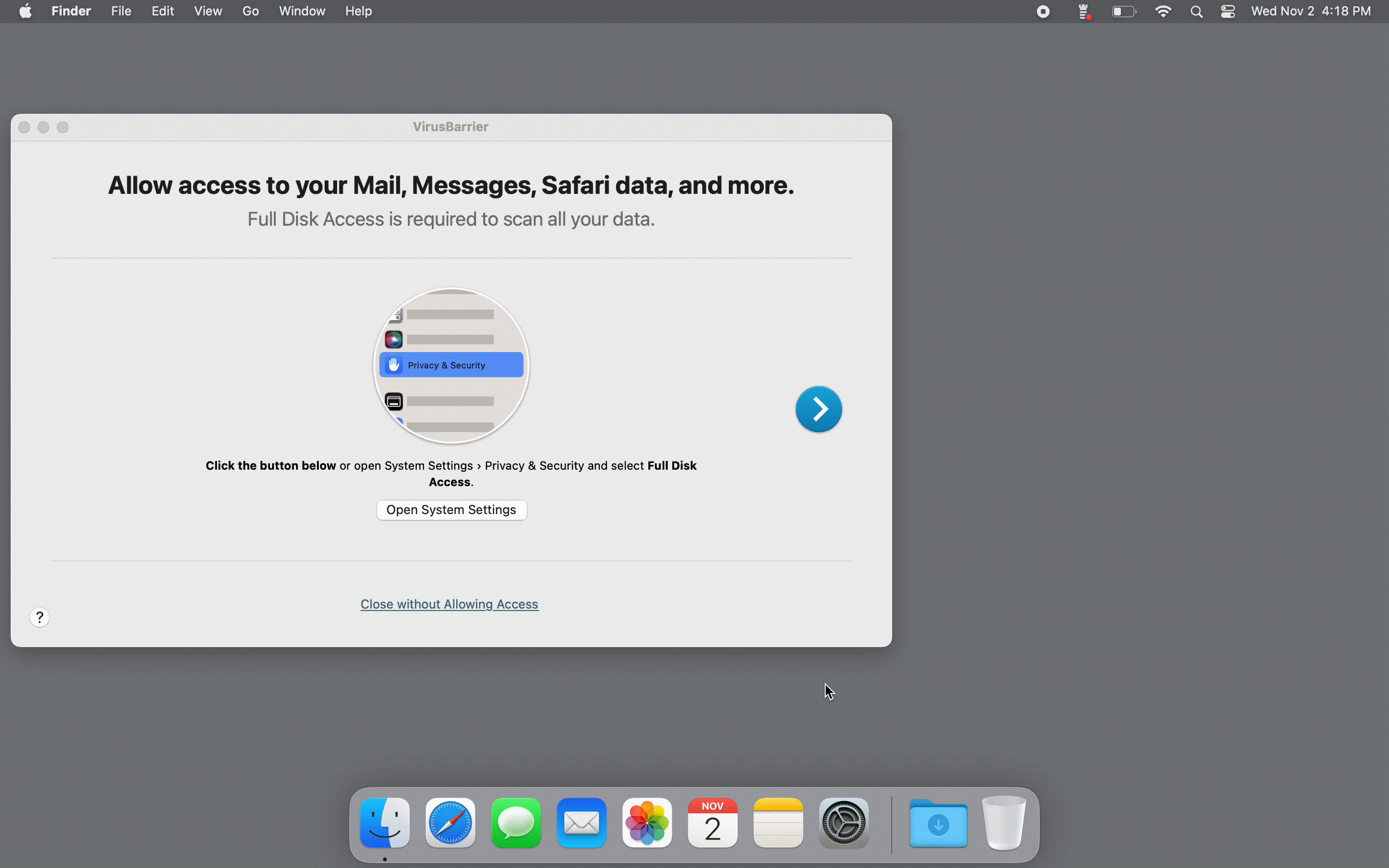 Open the Privacy and Security section with System Settings
Locate VirusBarrier within the list
Click on the button to set the switch to the Enabled position
Enter your Mac's admin/login password to approve the settings change
For more detailed steps using older versions of macOS (Mojave 10.14- Monterey 12.0) visit the link below.
Using Software in Evaluation Mode
Intego software offers an evaluation mode for all to discover how the programs work before you make your purchase. To use the evaluation mode, click 'Free Trial' when the registration screen displays.
When software runs in evaluation mode, it is functional for 14 days. Intego provides a demonstration version of its software so users can try out the application to see if the software is compatible with their Macs and their needs. The demonstration version is provided as an example of the program's features and functions with the exception that it cannot repair infected files, or clean/delete data from your Mac. At the end of this period, you can either purchase a serial number for the application or uninstall it from your computer.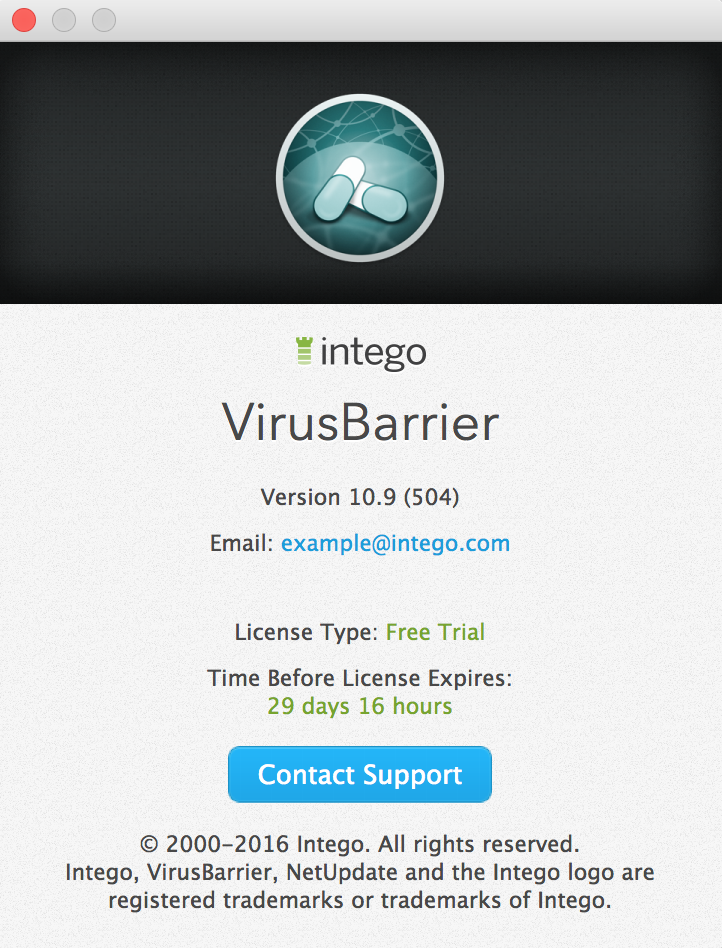 Scanning Your Mac With VirusBarrier
VirusBarrier's anti-malware protection works in several ways. Its Real-Time Scanner constantly watches over your Mac, protecting you from viruses and malware. The Real-Time Scanner ensures that your Mac is protected at all times by scanning every file that is created, copied, modified or saved. It does not, however, scan other files. This is why we suggest you run a Full Scan when you install VirusBarrier to ensure that you don't have any infected files.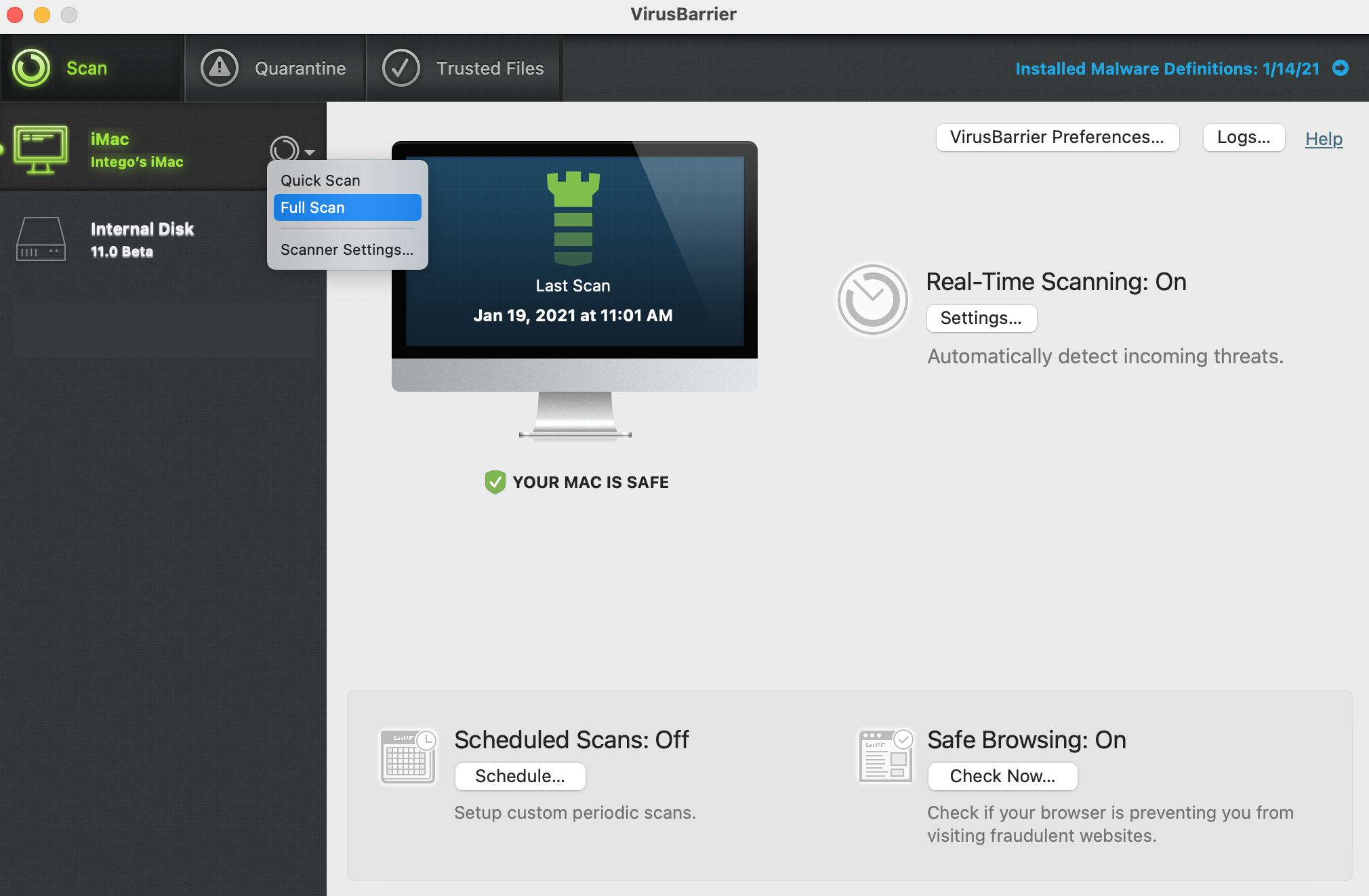 Software Updates with NetUpdate
NetUpdate is an application used by Intego programs to check for updates to the software. It is installed when you install any Intego software. NetUpdate can carry out automatic checks at the frequency you choose, or you can manually check whenever you wish.
You can open NetUpdate from the Intego menu, which is in your menu bar: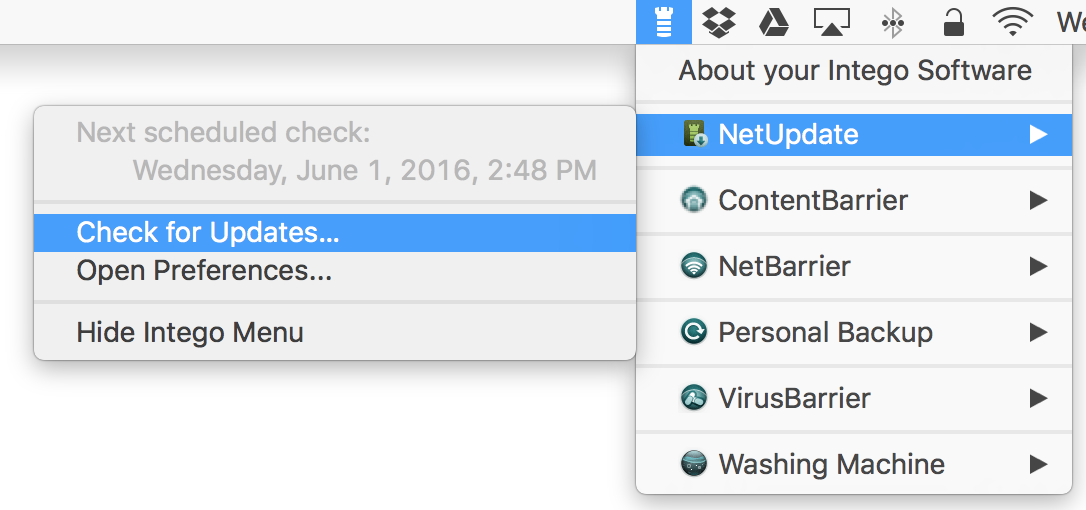 You can also launch NetUpdate by double-clicking the application icon in your Applications > Intego folder: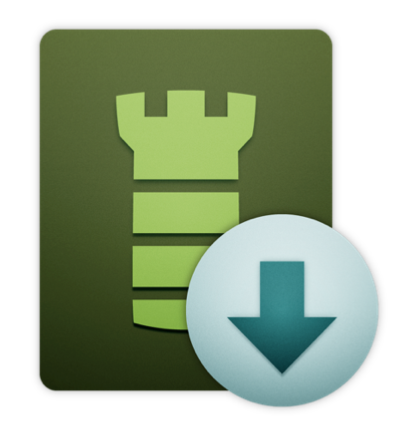 Or, you can check for updates through VirusBarrier directly by clicking 'Installed Definitions' in the upper right corner of the window.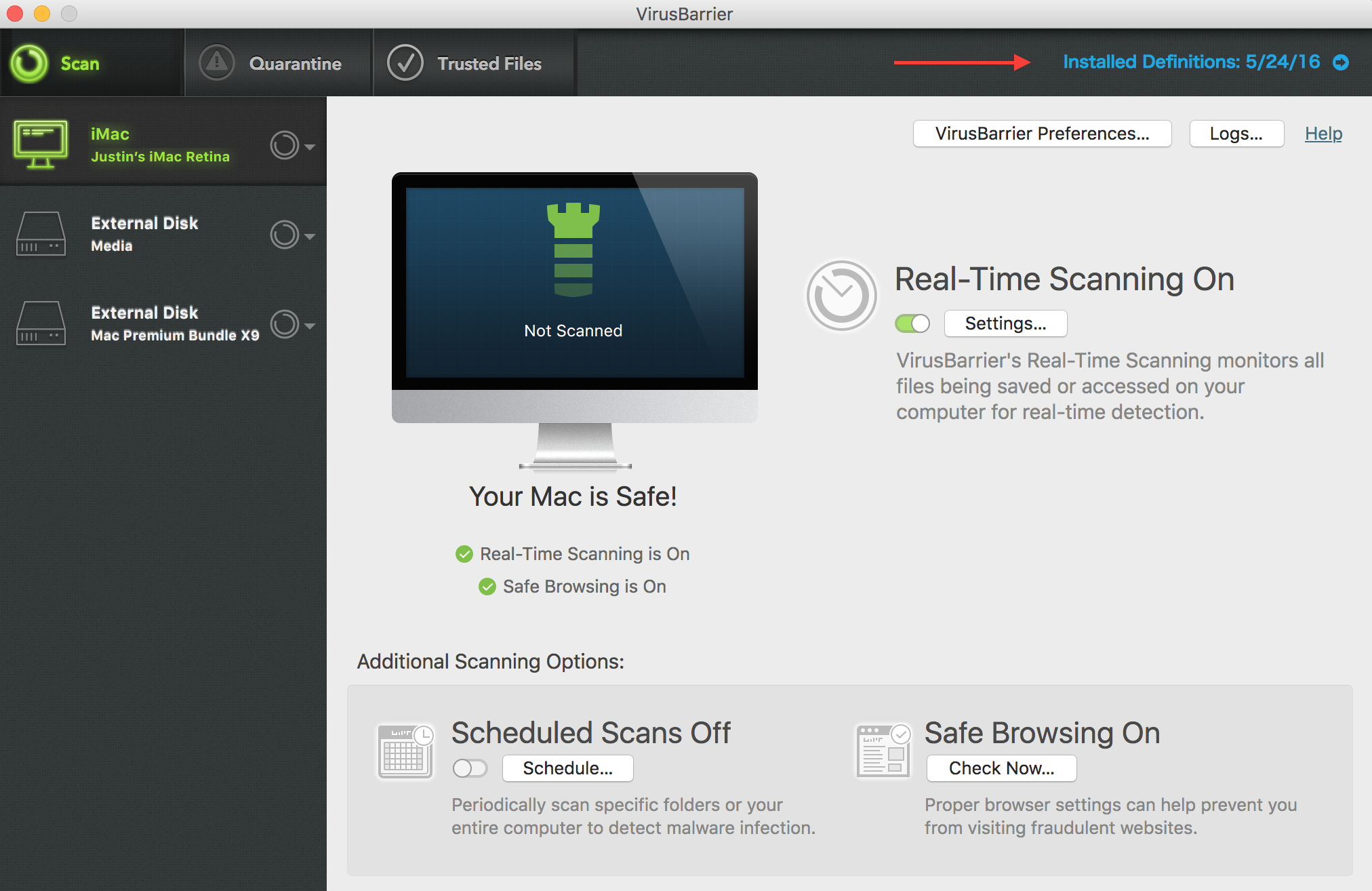 No matter how you launch NetUpdate, the program connects to Intego's servers to determine whether you have the latest version of your Intego software installed. If a new version is available, you will be able to download and install it.
The first time you use NetUpdate, you will need to enter your e-mail address in NetUpdate's preferences. Under the General tab, enter your e-mail address in the E-mail field.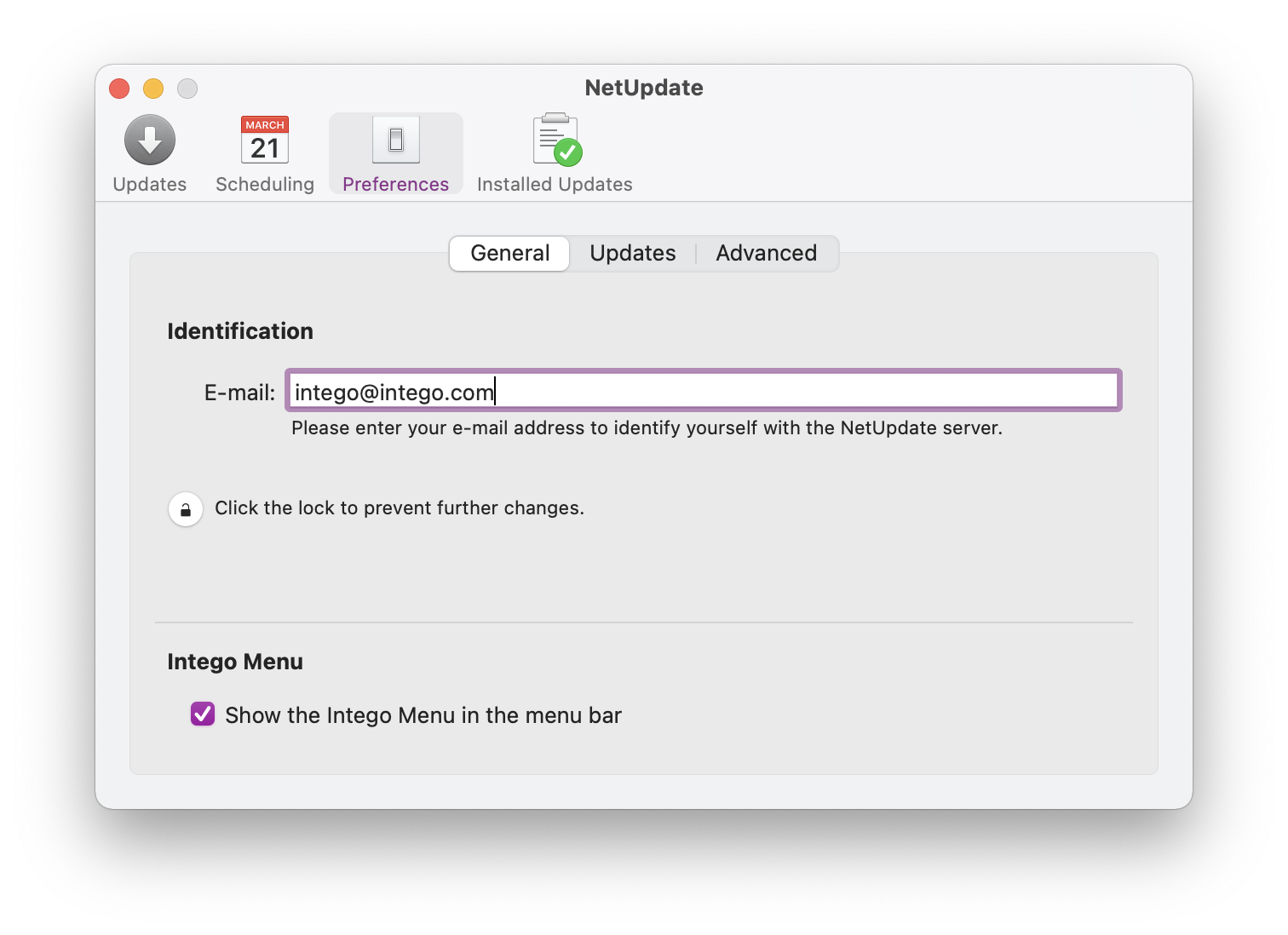 Uninstalling Software
Proper removal of the software requires using the Uninstaller package located in your software bundle. (The .DMG file downloaded at time of purchase) If you have manually attempted to remove the software you will need to first reinstall the software again, then use the same installer package to properly remove the applications and other files.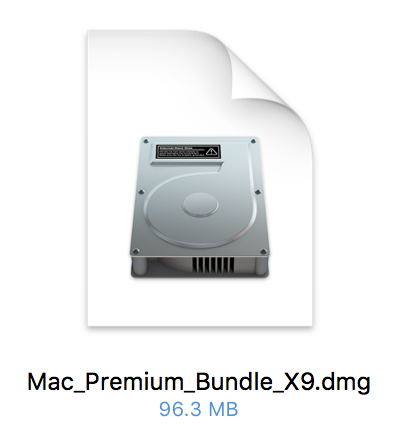 When you open the disk image you will have the option to Uninstall. Double-click on Uninstall.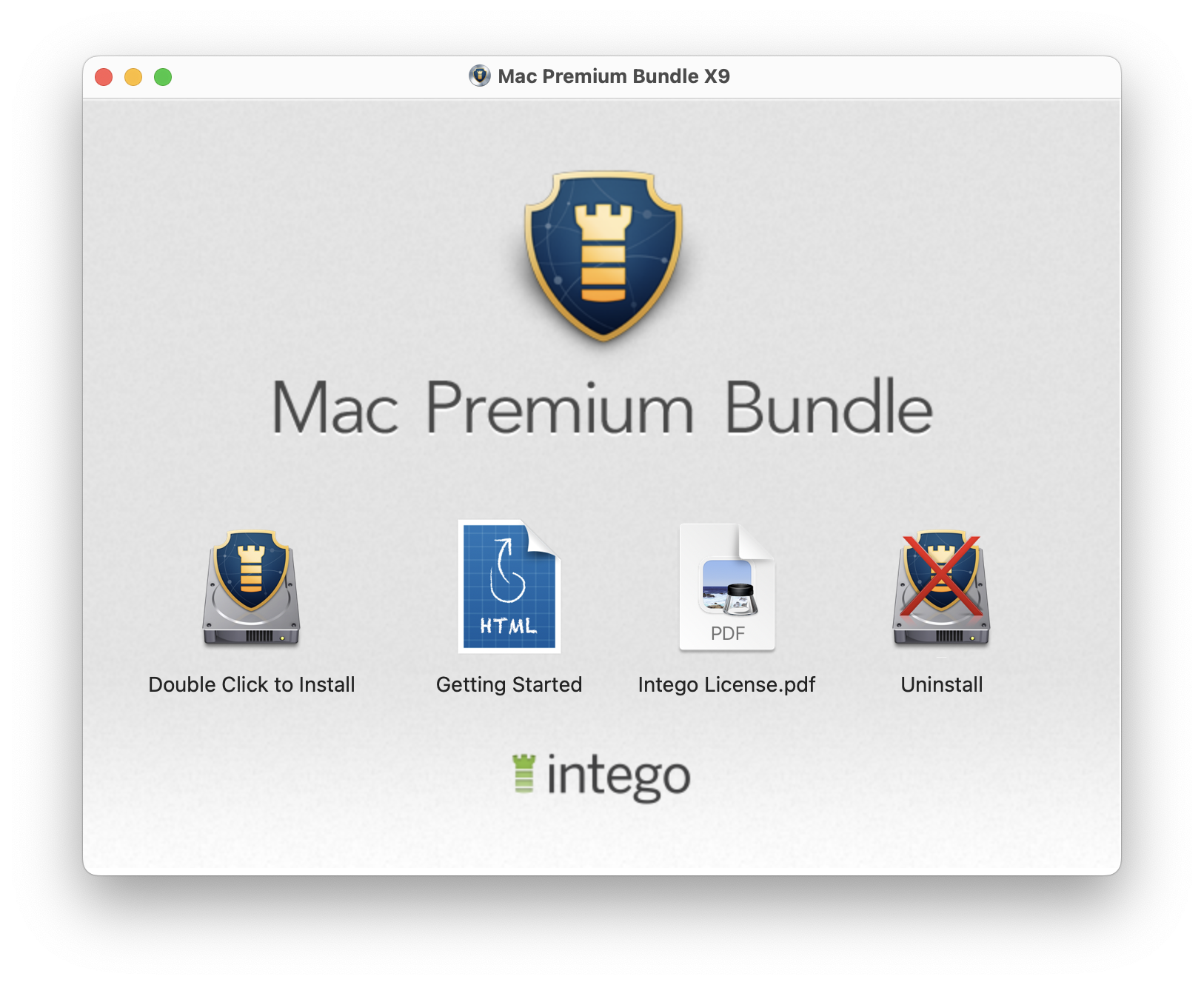 When you select Uninstall Software, you will see a window with all of your Intego software listed. Place a check next to the application(s) you wish to remove and select the Uninstall... button.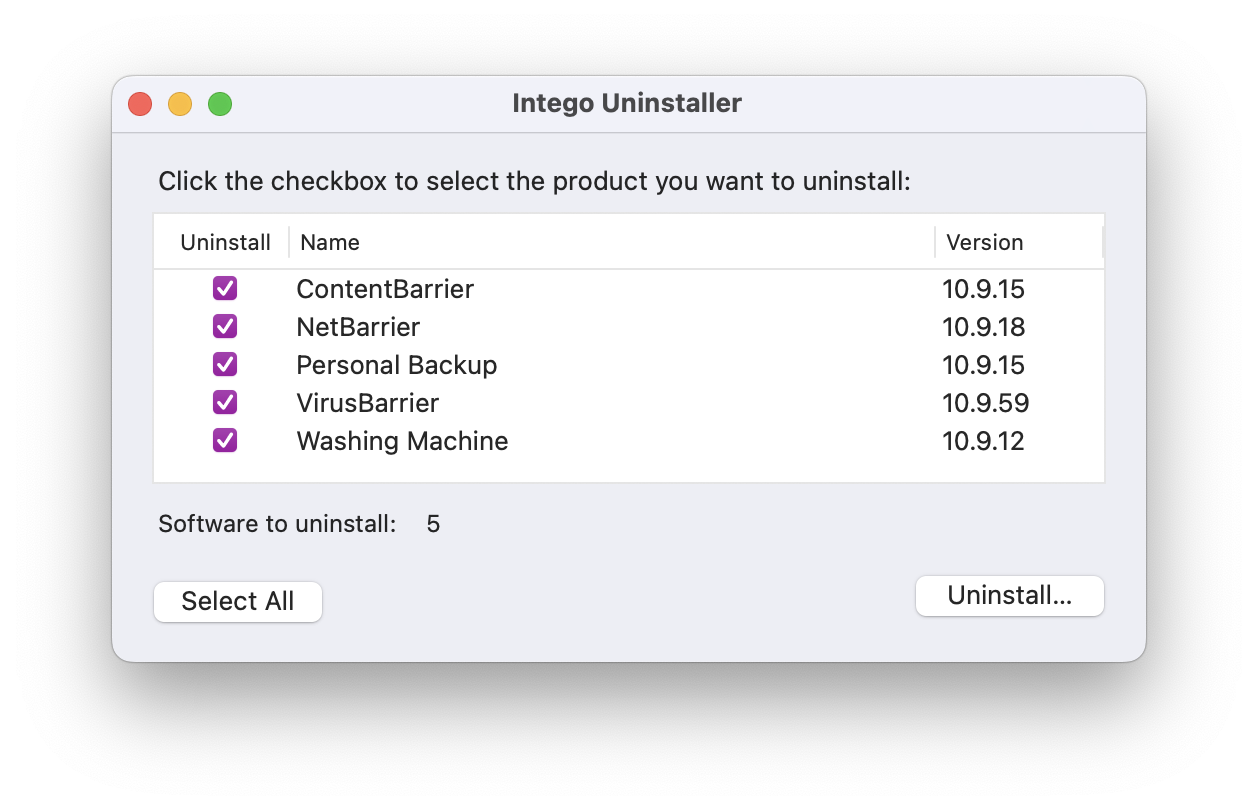 You will be prompted to enter your computer's administrator password to proceed. Once you have entered the password your Intego software will be completely removed from your Mac.
User Manuals
For more information on individual applications included in your Intego software bundle, you can access their user manuals from the links below:
VirusBarrier
NetBarrier
Washing Machine
ContentBarrier
Personal Backup
Support
Still have questions about using your Intego software? We're here to help! Support is available online via our website, live chat, or e-mail. You can also call us directly if you need assistance by phone.
Click Here to open a Support Ticket.