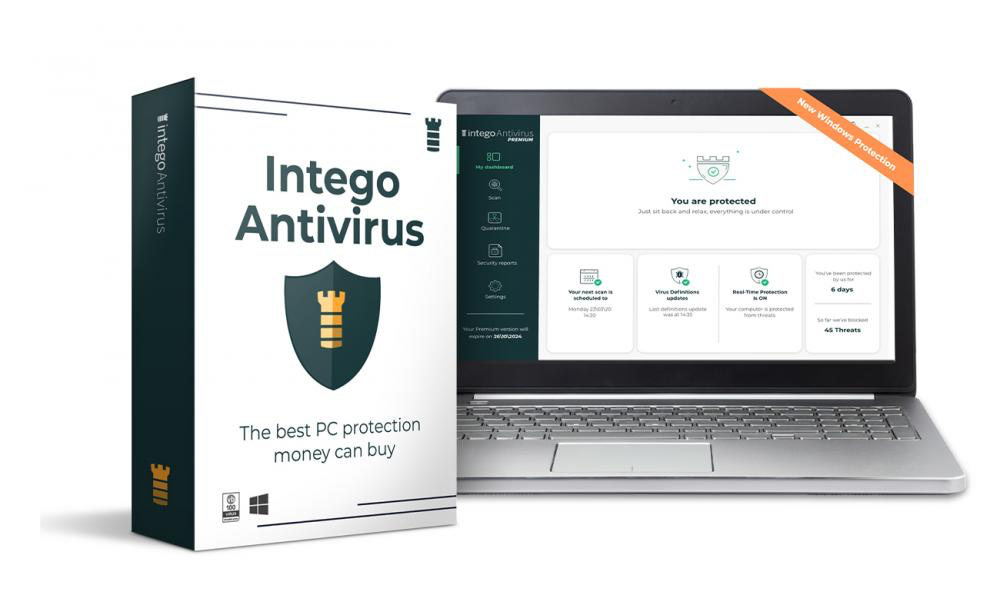 Welcome to the User Manual for Intego Antivirus for Windows, world-class antivirus protection for your PC! Clean your PC from malware within minutes and protect your system at all times.

Use the Table of Contents below to go to the different sections of the manual.
Table of Contents
1. Welcome to Intego Antivirus for Windows
2. Getting Started
3. Protecting Your PC from Viruses and Malware
4. Security Reports
5. Settings
6. Customer Support


1. Welcome
About Intego Antivirus for Windows
While viruses, Trojan horses, worms and other forms of malware are a constant threat to computers of all kinds, cyber-criminals are turning to new techniques to infect and control your PC's. These new threats come silently, with little warning, over the Internet: in many cases, simply visiting a booby-trapped web page can compromise your computer.
Intego Antivirus for Windows detects and eradicates:
Windows viruses
Mac viruses
Unix viruses
Microsoft Word and Excel macro viruses
Trojan horses
Worms
Spyware
Adware
Ransomware
Scareware
Hacking tools
Dialers
Keyloggers
System Requirements
Any officially-supported PC compatible computer
Windows 7 or higher
500 MB free hard disk space
2 GB RAM
Internet connection is required (high-speed connection is highly recommended)
Installing Intego Antivirus for Windows
It's very easy to install Intego Antivirus for Windows.
Click on the IntegoSetup.exe file from your Downloads folder
On the system dialog popup click Yes to start the installation
When the installer starts, click Install and it will guide you through the process
For more information on installing and activating Intego Antivirus, see the Installing Intego Antivirus for Windows article.
2. Getting Started
Using 'My Dashboard'
When you open Intego Antivirus, the My Dashboard window is displayed. This screen shows information about how Intego Antivirus is running, and provides feedback on its activities.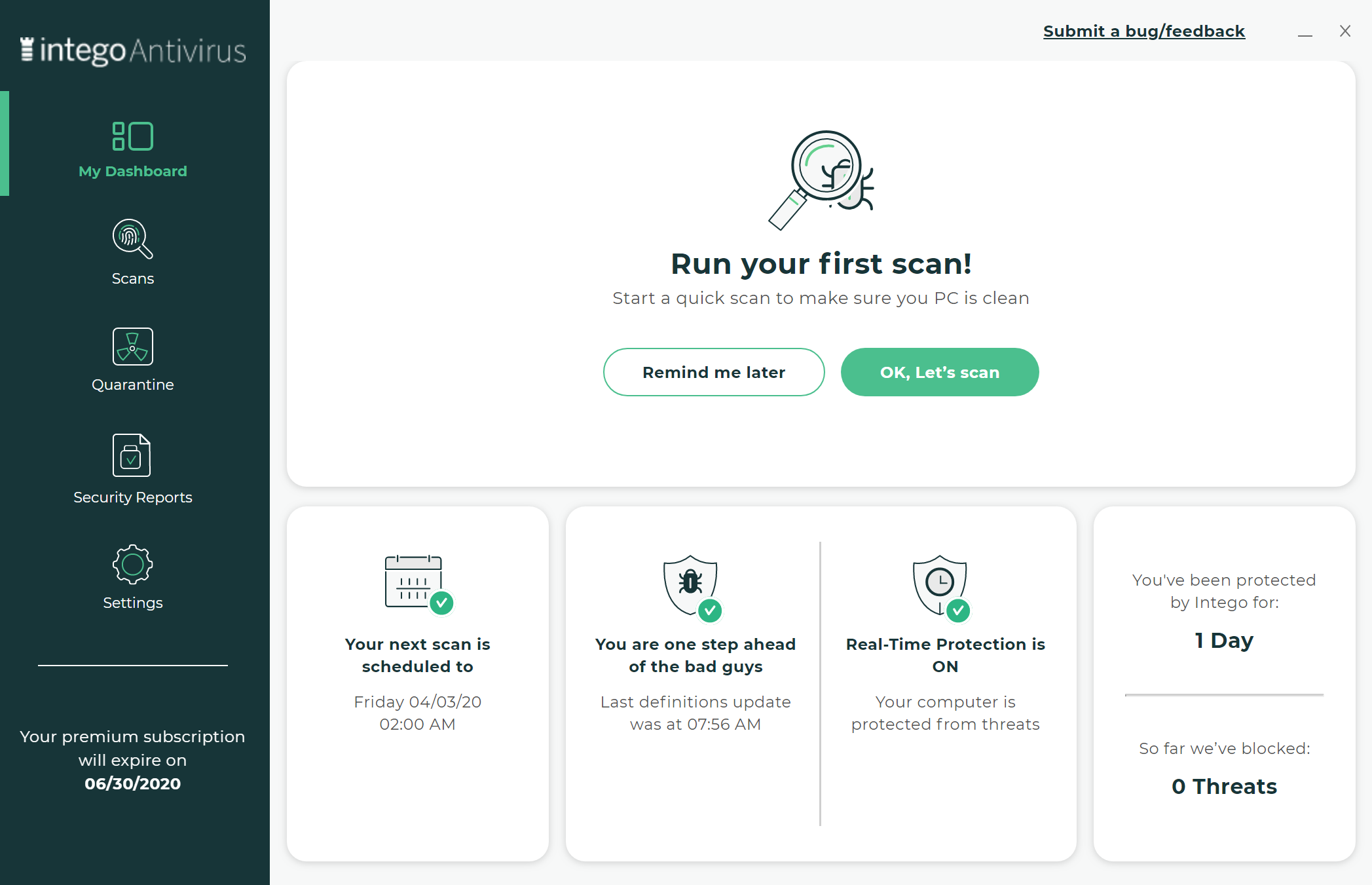 The My Dashboard screen gives quick access to:
Intego Antivirus Scans, Quarantine, Security Reports and Settings
Visual indicators of what sorts of protection are enabled
Information about the program itself, such as when it was last updated
Status Indicators on My Dashboard
The status of various Intego Antivirus features appear on the My Dashboard screen.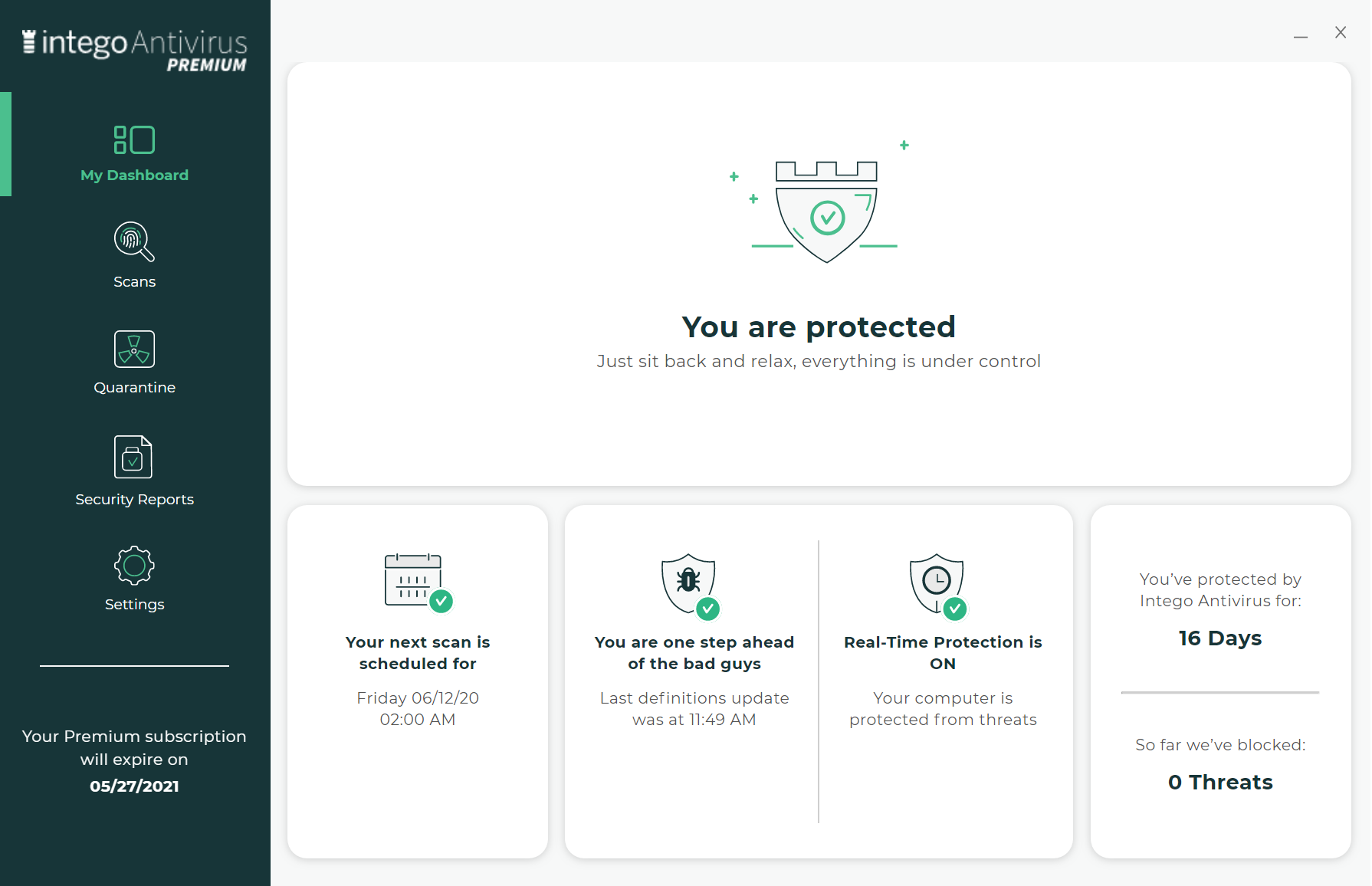 These indicators will appear as green check marks when features are enabled.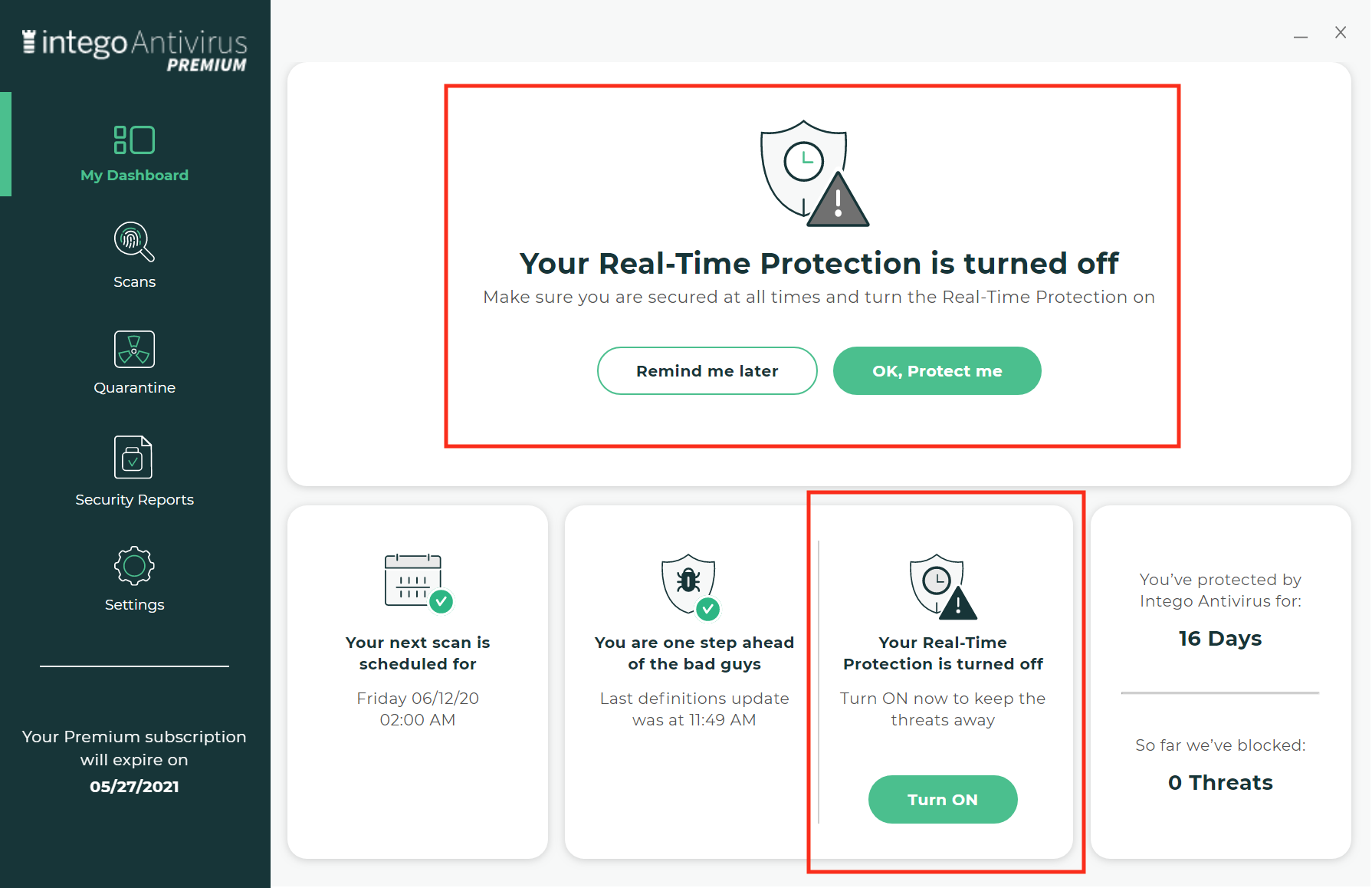 If a feature is disabled that may put your computer at risk, Intego Antivirus will warn you and present an option to turn it on again.
Running Your First Scan
The first time you open Intego Antivirus, it will suggest to run your first scan. Select OK, Let's scan to start a quick scan to make sure your PC is clean. You can also select Remind me later to dismiss this notification and you'll be reminded again in the future to scan your computer.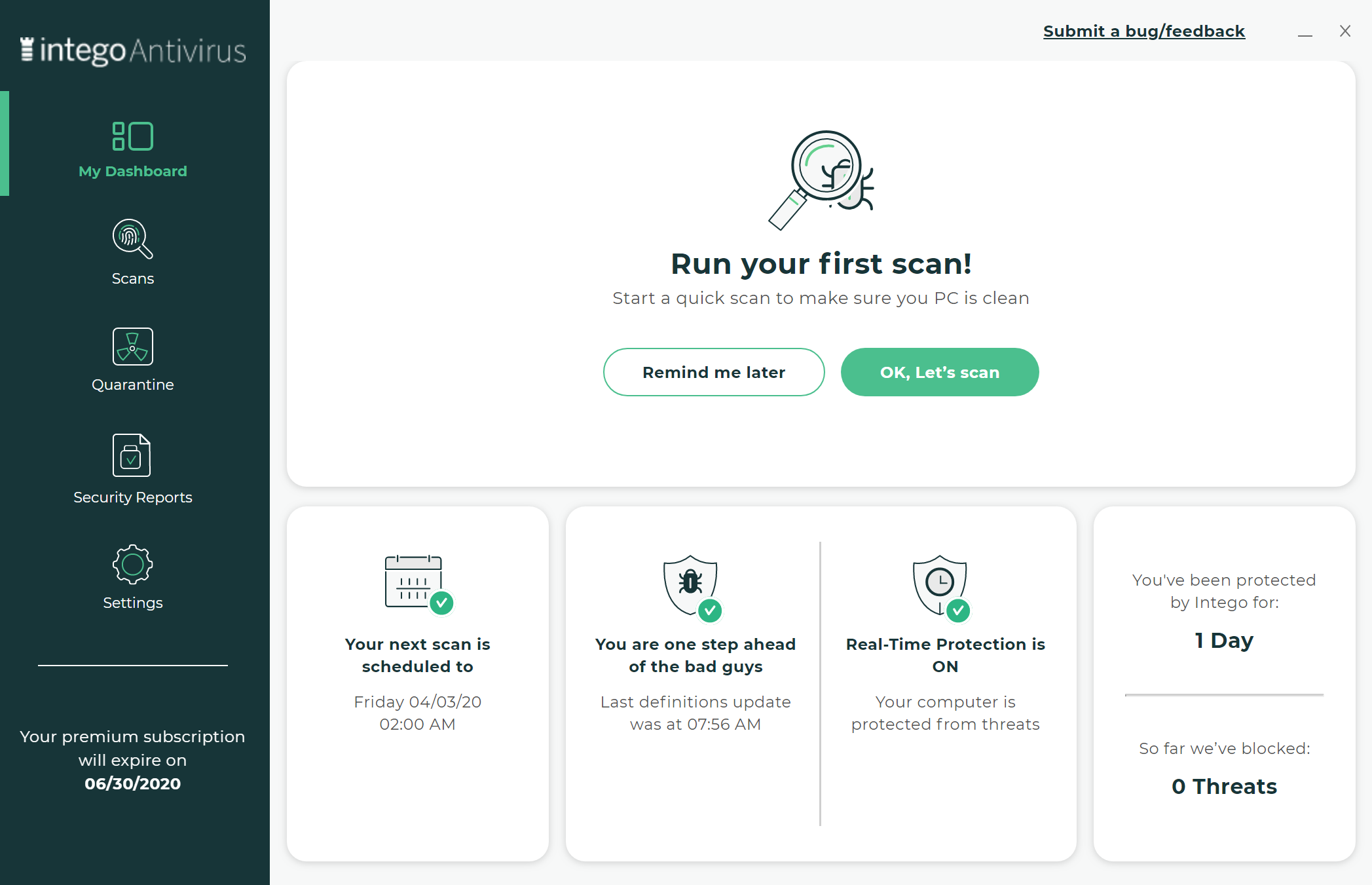 Intego Antivirus will quickly scan relevant locations, processes, and virus behavior to make sure nothing malicious is trying to harm your system. Any infected files will be automatically quarantined.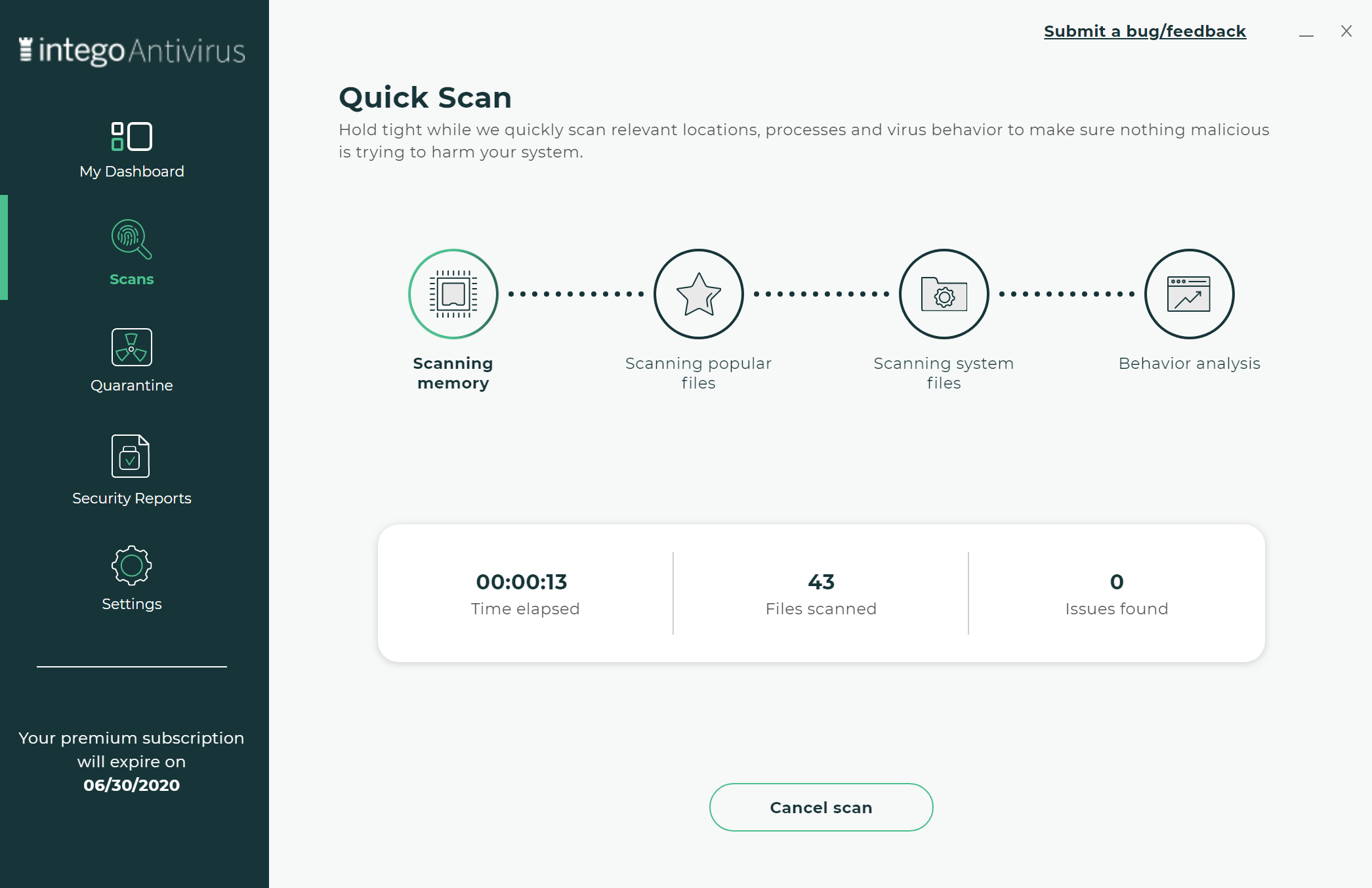 Once the scan has completed, you will see a scan summary. To see even more details, you can click Scan Report. (Security Reports are covered in another chapter.)
3. Protecting Your PC from Viruses and Malware

Real-Time Protection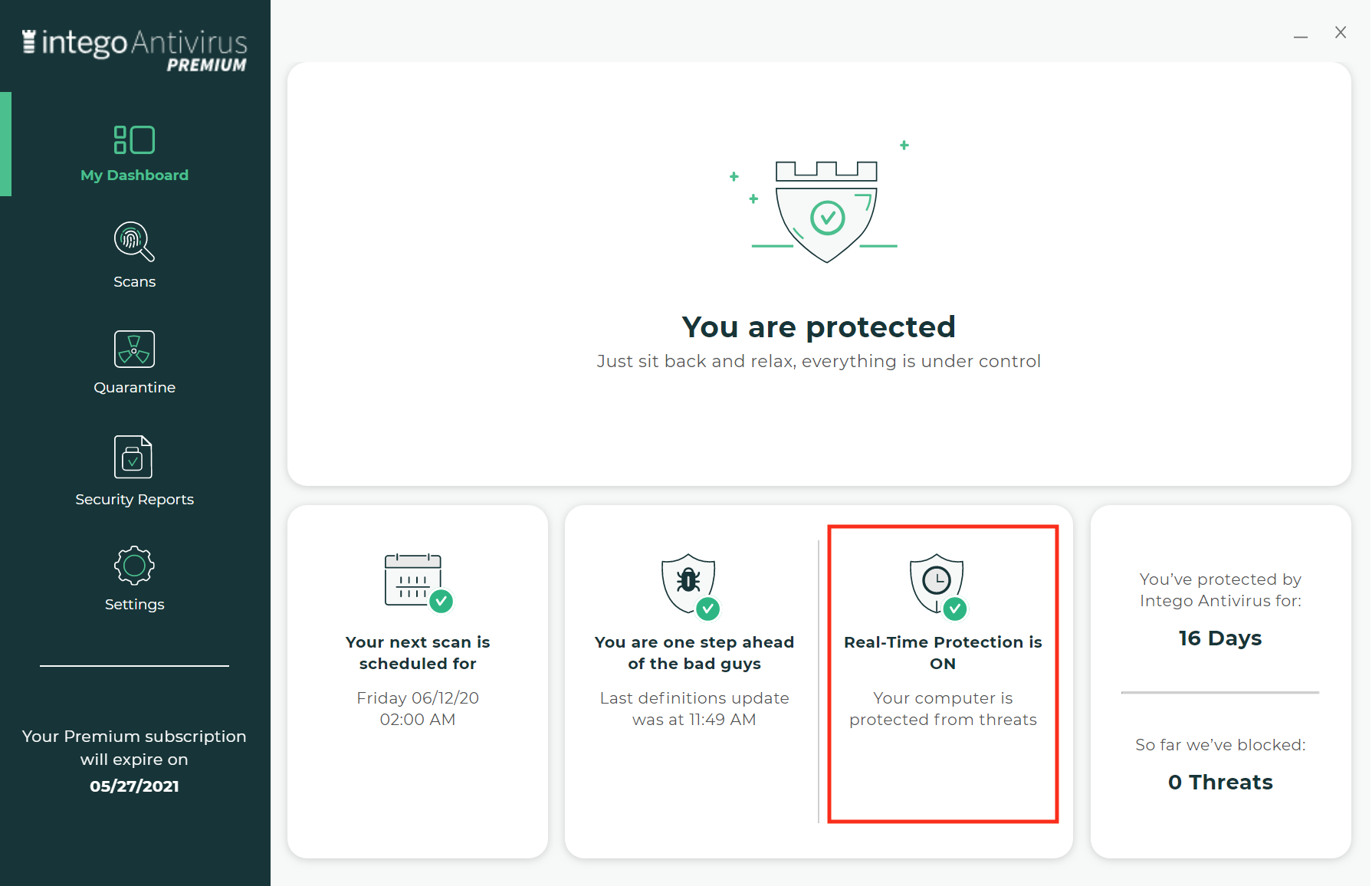 The Real-Time Protection constantly watches over your PC, protecting you from viruses and malware at all times. You can see the status of Real-Time Protection in the My Dashboard window. It ensures that your PC is protected by scanning every file that is created, copied, modified or saved. It does not, however, scan other files. This is why we suggest you run a Complete Virus Scan of all of your files when you first install Intego Antivirus.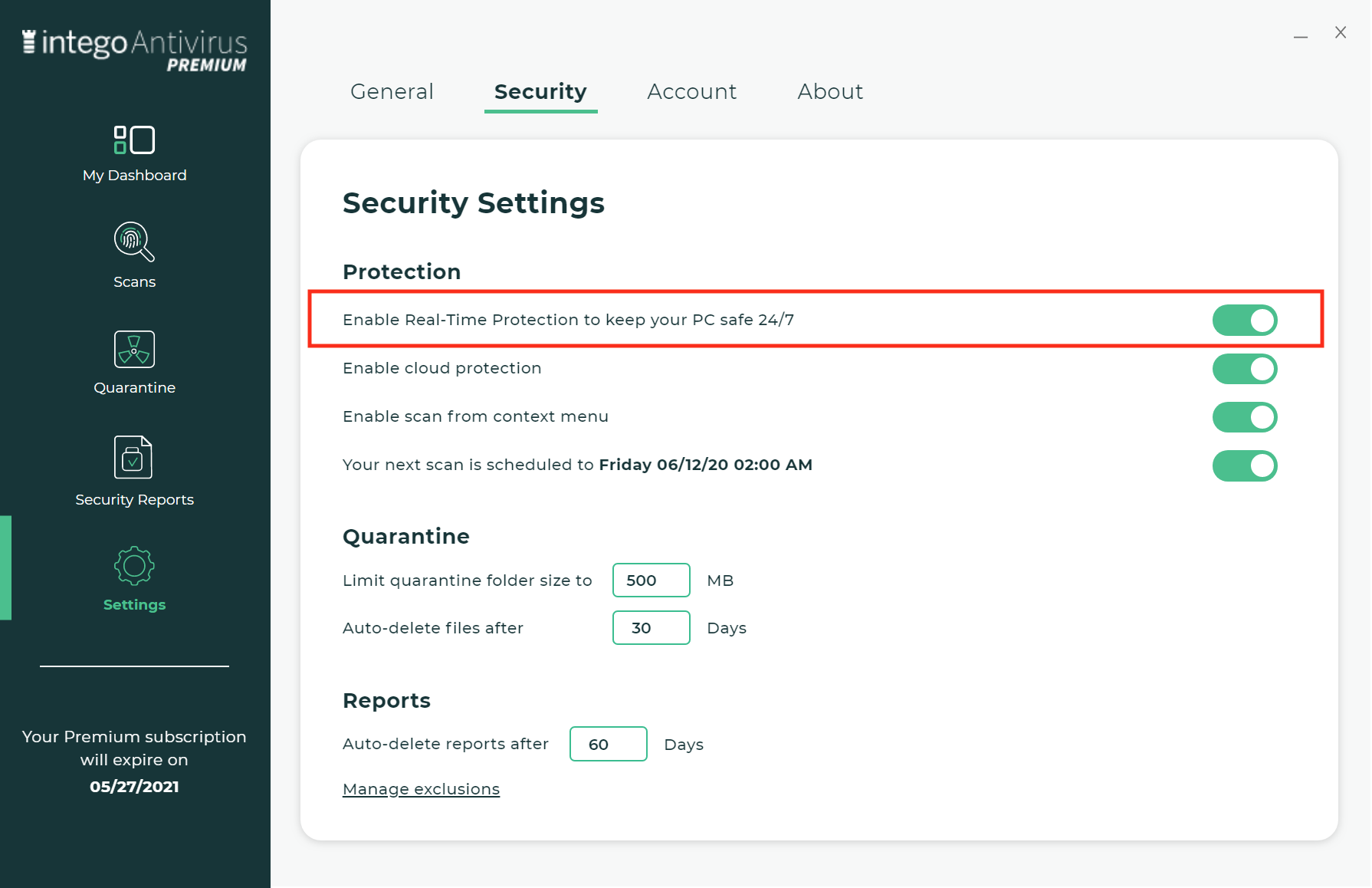 To turn off the Real-Time Protection and disable Intego Antivirus, go to the Settings > Security section and move the Real-Time Protection slider to OFF; you can turn it back on by moving the slider ON. In normal operation, you will not need to disable Real-Time Protection; this is only useful for troubleshooting when you have a problem with your PC.
Scans
You can also use Intego Antivirus' Scans section to check any file, folder, disk, or volume on your PC.
Quick Scan
Quick Scan will scan only those locations where malware is commonly installed. The files and folders scanned may change as new malware appears, and the locations scanned may be different with newer virus definitions or software updates.


Complete Virus Scan
You can run a manual Complete Virus Scan with Intego Antivirus whenever you want. You should do this immediately after installation to ensure that you don't have any infected files on your device already. After that, the Real-Time Protection ensures that any new files you add to your PC are scanned and safe.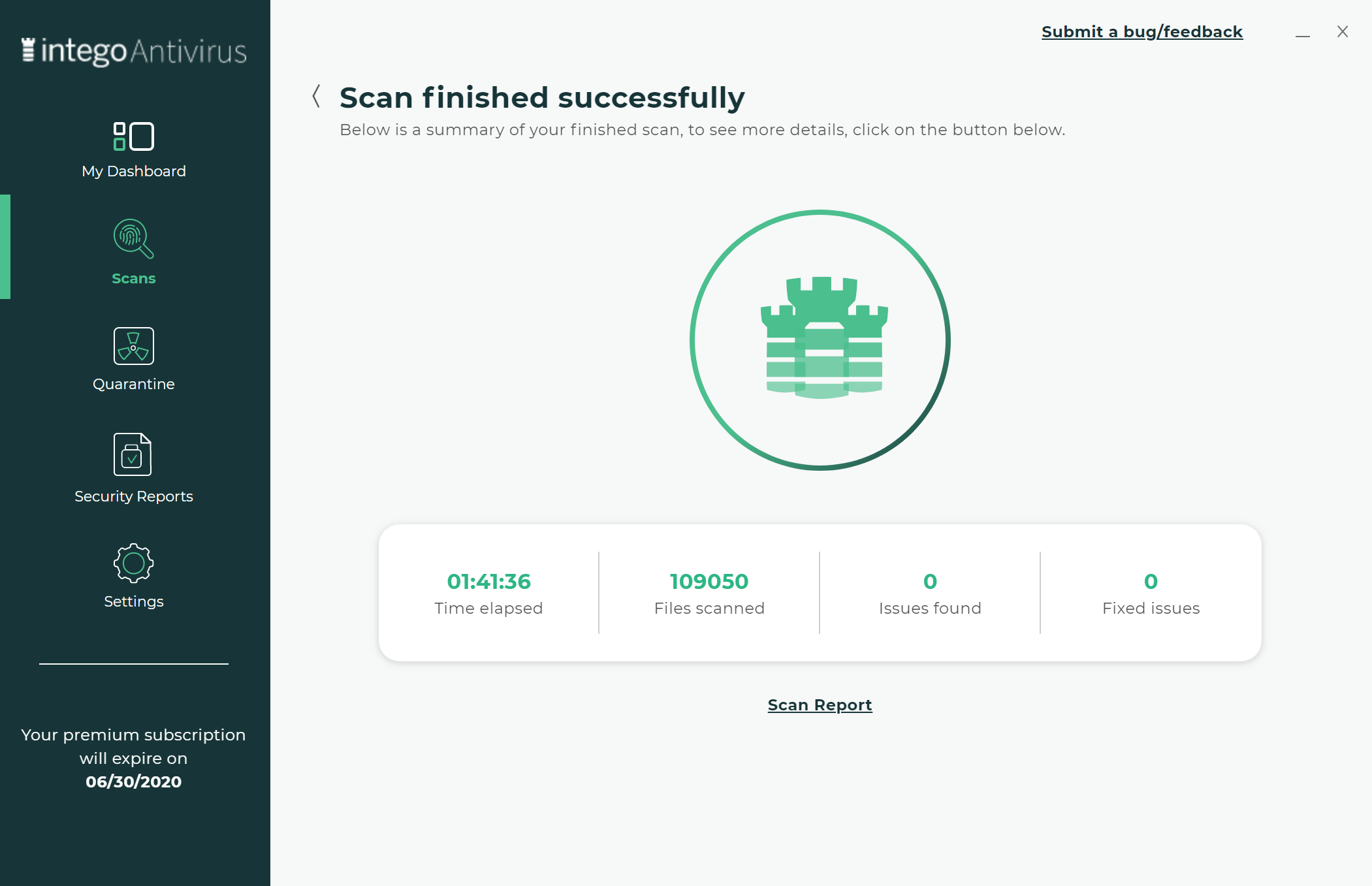 Once a scan has completed, you will see a scan summary. To see more details, you can click the Scan Report. (Security Reports are covered in another chapter.)
Custom Scan
If you want to scan a single file, folder, or volume on your computer with Intego Antivirus, you can do this simply by dragging and dropping the file into the Scans window.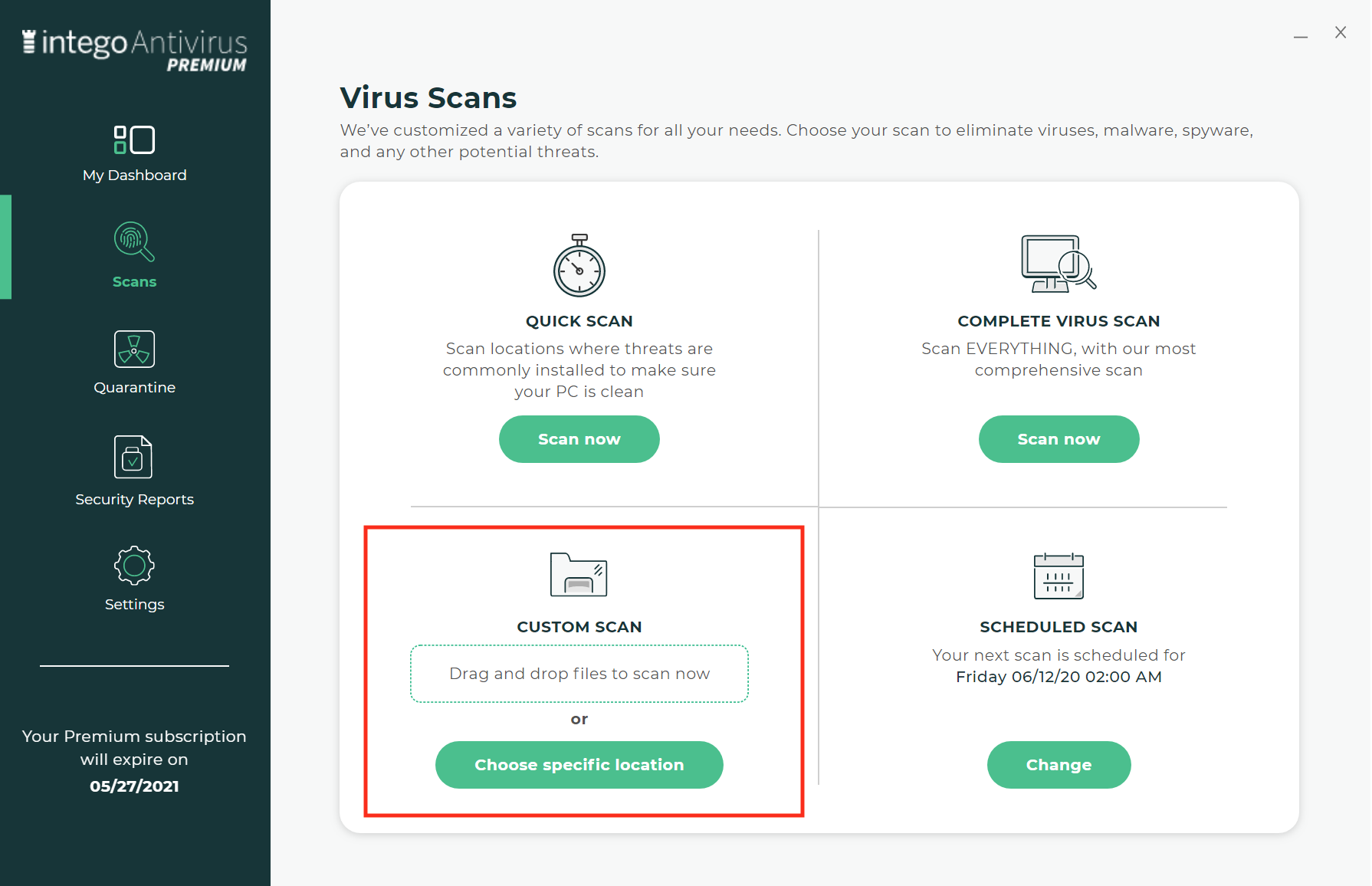 You can also click the Choose specific location button to choose multiple files and folders you want to scan.

Select Folder or File and navigate to the path on your PC where the files you want to scan are located.
Highlight the files and click Add to start the scan.
Scheduled Scan
Scans can also be set to run automatically at pre-arranged times. This information is displayed in the My Dashboard and Scans windows. Intego Antivirus will automatically determine the best time to run the scan so that it will not interrupt your regular computer activity.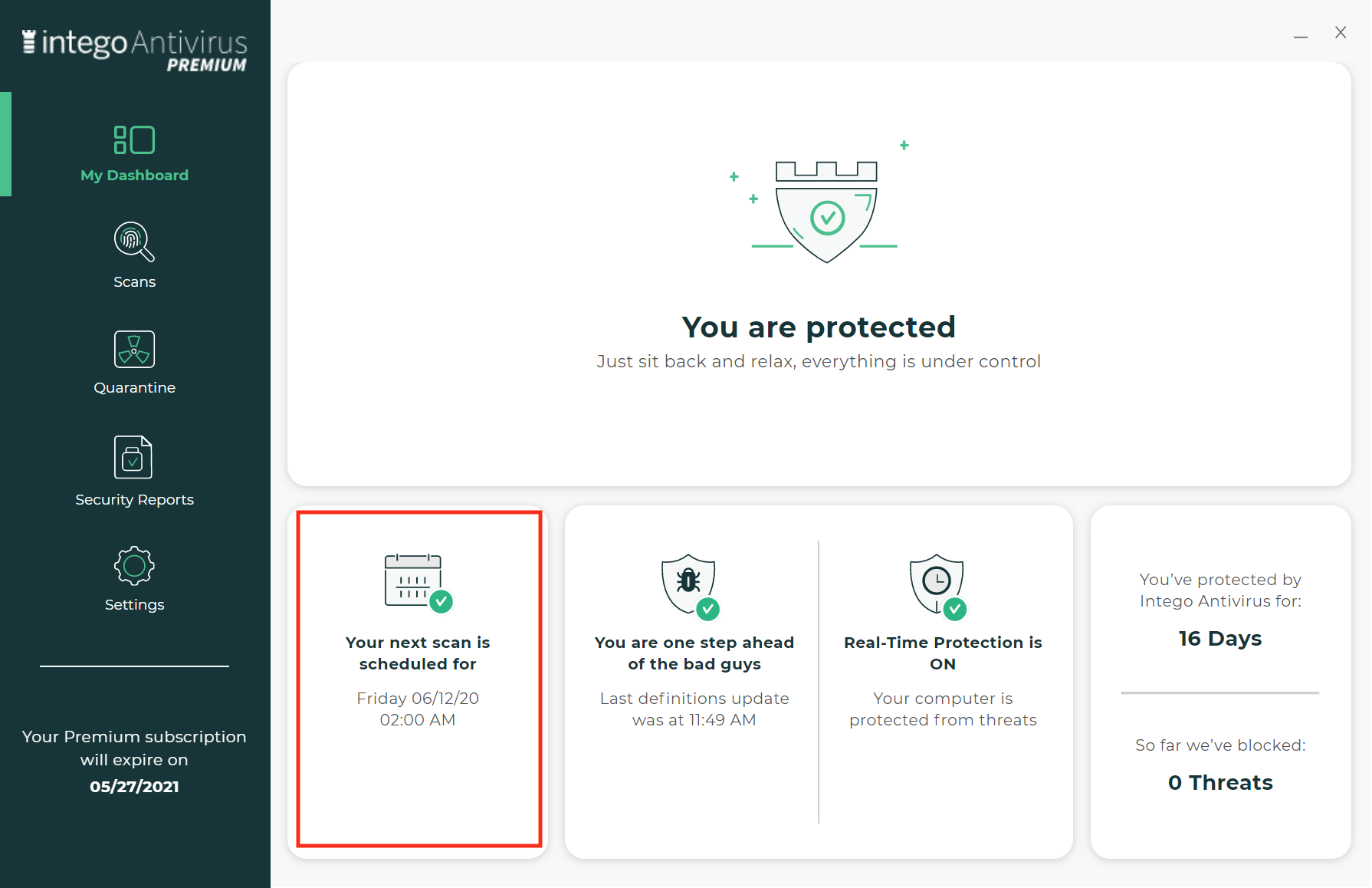 If you do not want a Scheduled scan, this feature can be disabled from the Settings > Security section.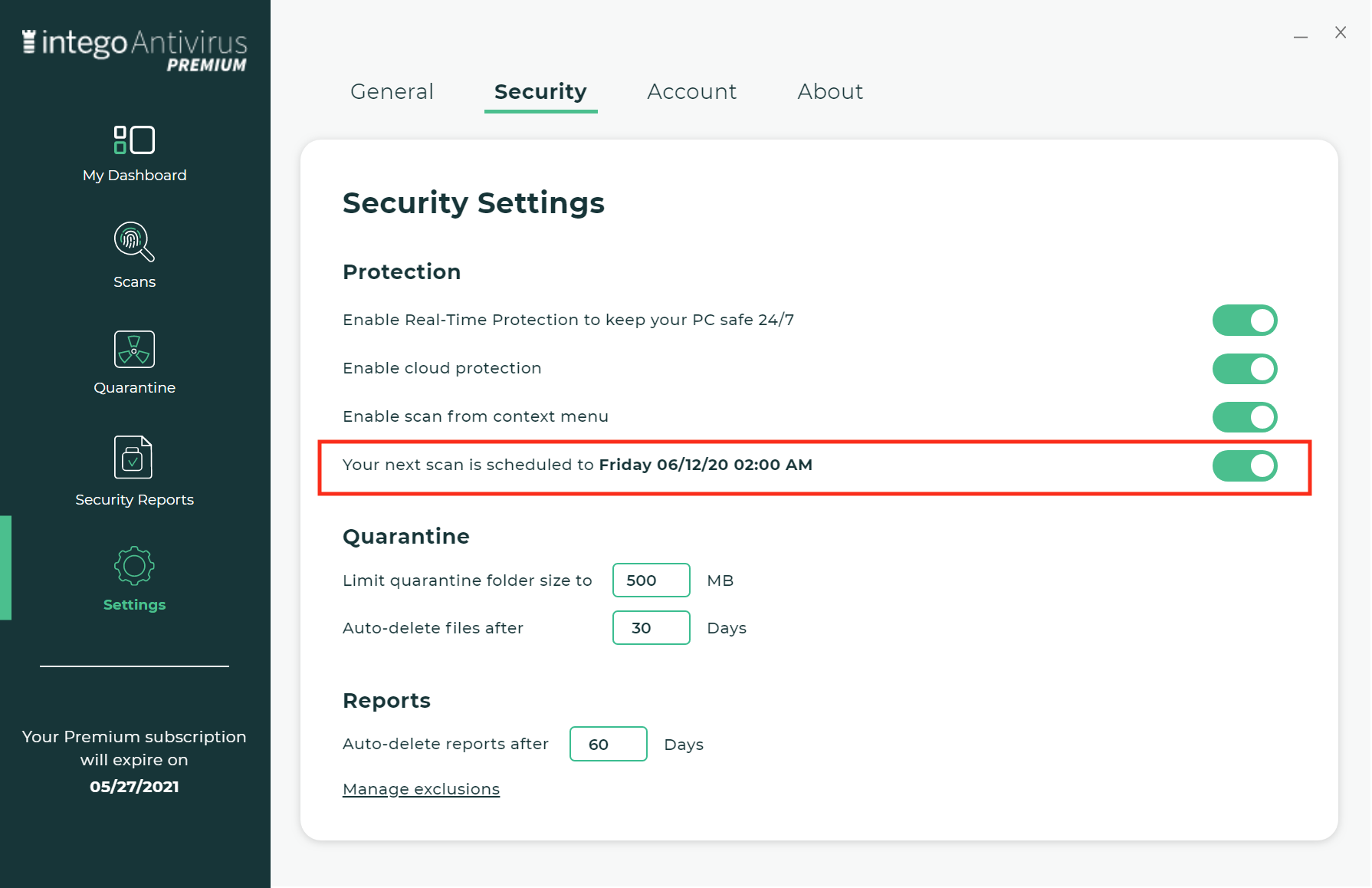 When Malware is Found
When a malware is found you will be notified immediately. Intego Antivirus Real-Time Protection will automatically block and quarantine the file to protect your PC, and you can open the Quarantine section to manage detected files.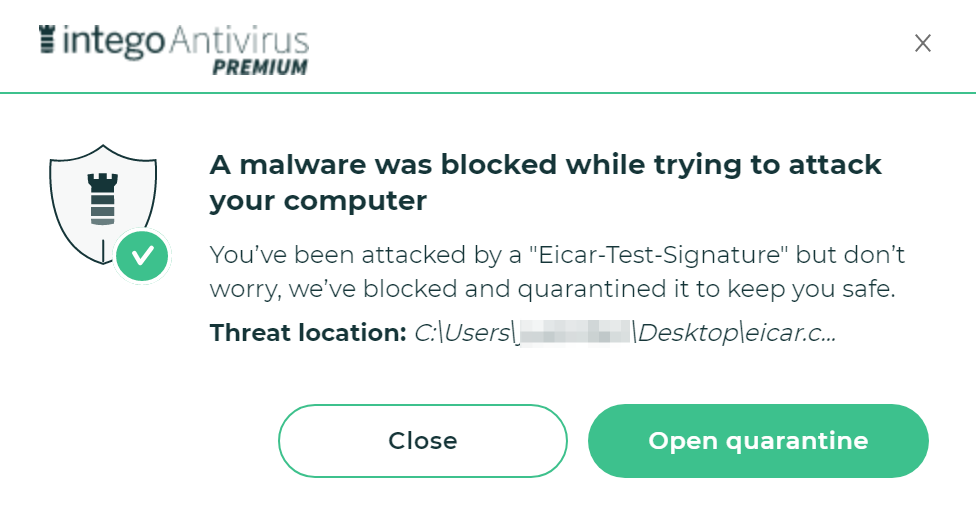 For all threats detected during a scan operation, you can view the Scan Reports for more information.
Quarantine
Intego Antivirus will automatically quarantine all infected files. When files are quarantined, they can't be opened or read, ensuring that they cannot infect your PC.
The Quarantine section shows you which files have been quarantined, the Threat name, Detection date and the Location on your PC where the file was located.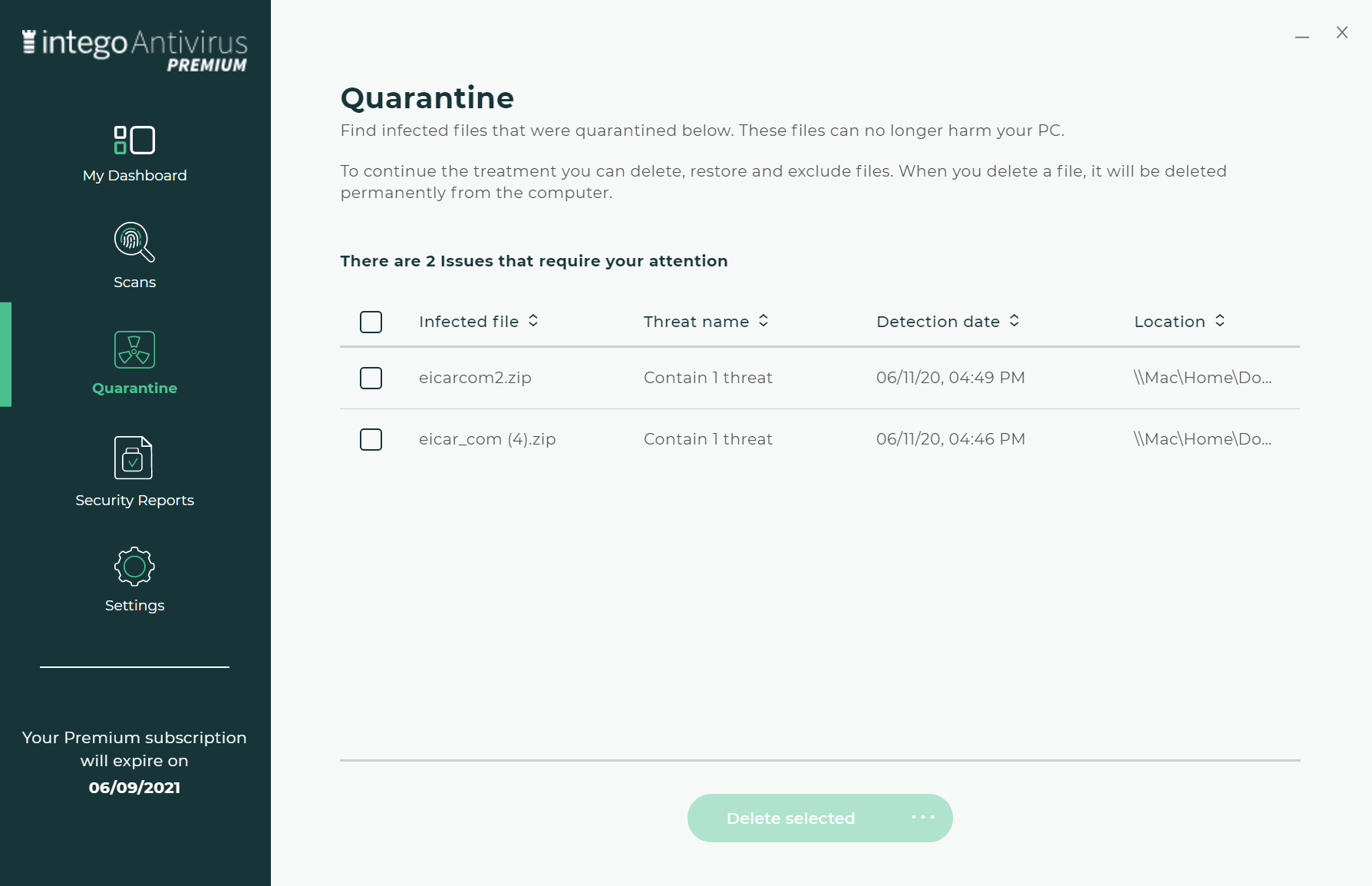 To continue treatment you can Delete, Restore, or Restore and Exclude. When you delete a file, it will be permanently removed from the computer.
Delete removes the file from your PC immediately.
Restore tells Intego Antivirus to move the file back to its original location.
Restore and Exclude tells Intego Antivirus that you think this file is not infected, and adds the file to the Exclusions Report. Be very careful when you click this button, and only do so if you are sure the file is safe. If not, it may infect your entire PC.
You can also see the file location path for the quarantined file in the bottom left corner of the window.
4. Security Reports
Here you can find all security reports and information related to your PC. Choose the report type you want from the options on the right-side of the window and get the data instantly.
Scan Reports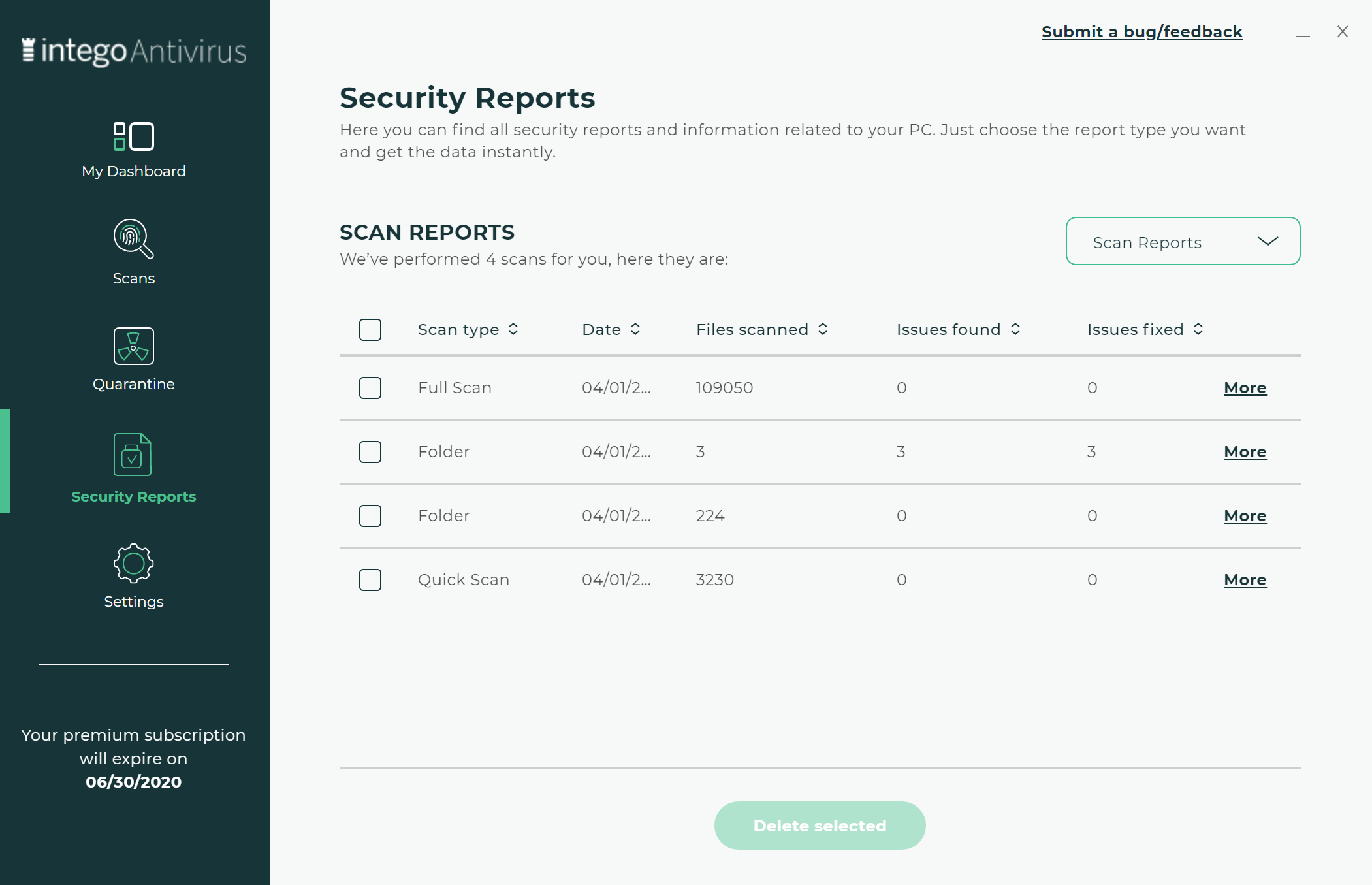 Real-Time Protection Report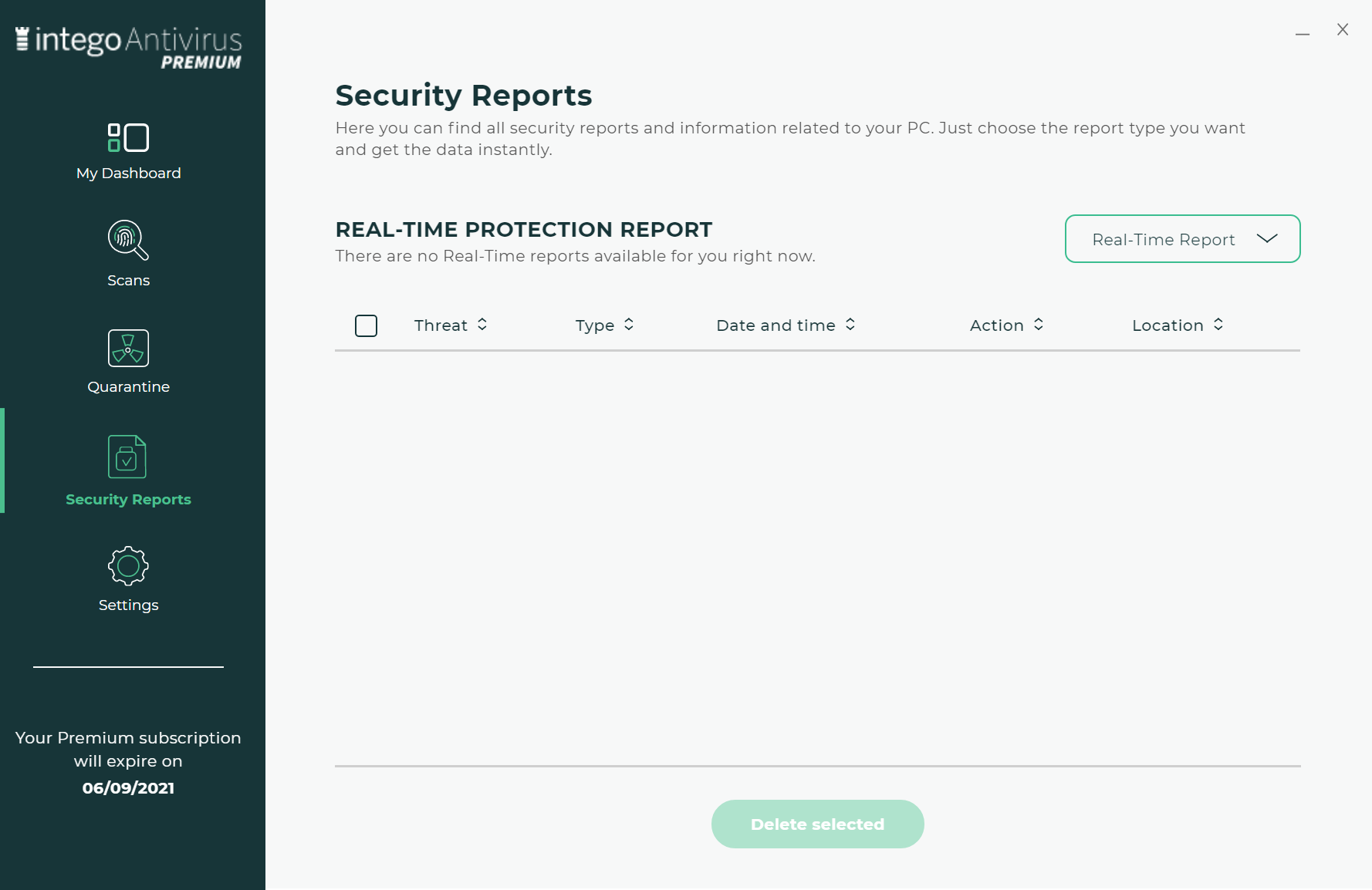 Exclusions Report
Intego Antivirus offers the option to add files, folders or volumes to a list of excluded files. It will assume that these files are safe and will not scan them.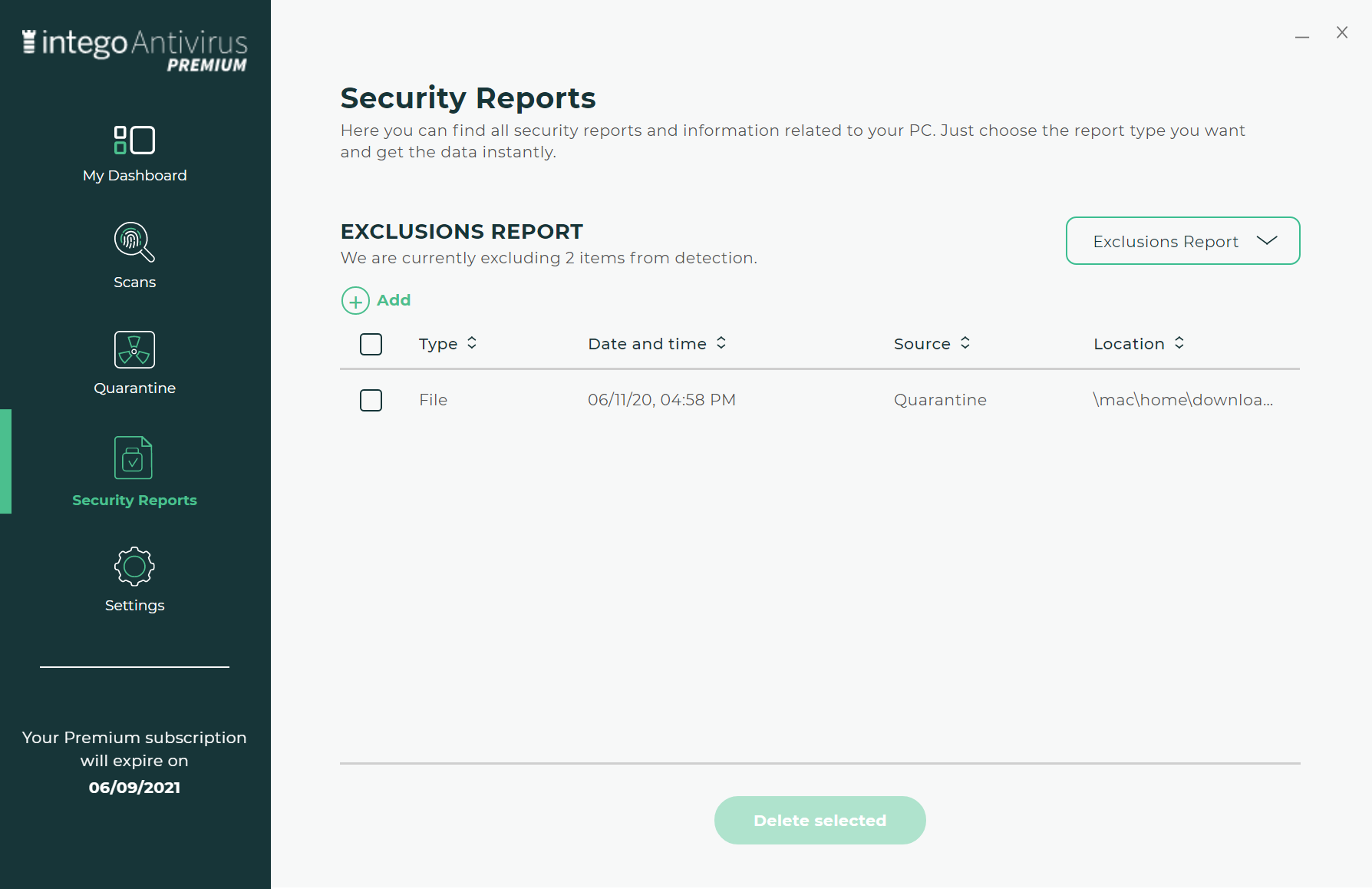 There are two ways to add files, folders and volumes to the exclusions list. You can access the Exclusions Report directly from Security Reports and click the Add '+' button.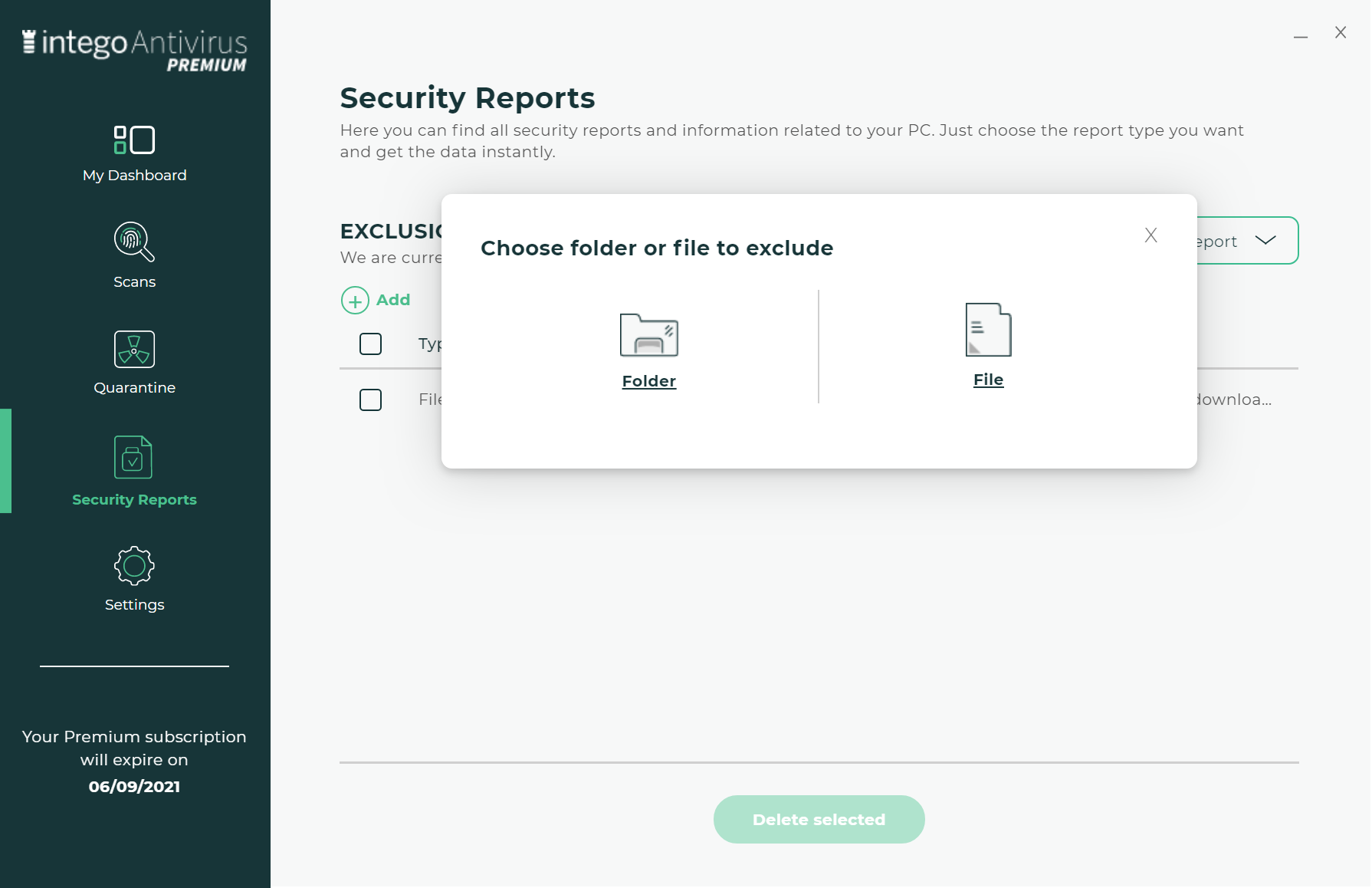 Click the small + button at the bottom-left corner of the screen, navigate to the item you'd like to add to the Trusted Files list, then click the Add button, or
Drag the item from the Finder into the window
Adding a folder or volume tells Intego Antivirus to trust ALL files contained in the selected item, including any subfolders it contains.
5. Settings
Intego Antivirus is designed to work unobtrusively in the background once it's installed. However, it has numerous options to let you control how its various functions work.
The Settings are divided into four sections: General, Security, Account, and About.
General
This section provides general information and usability options for your software.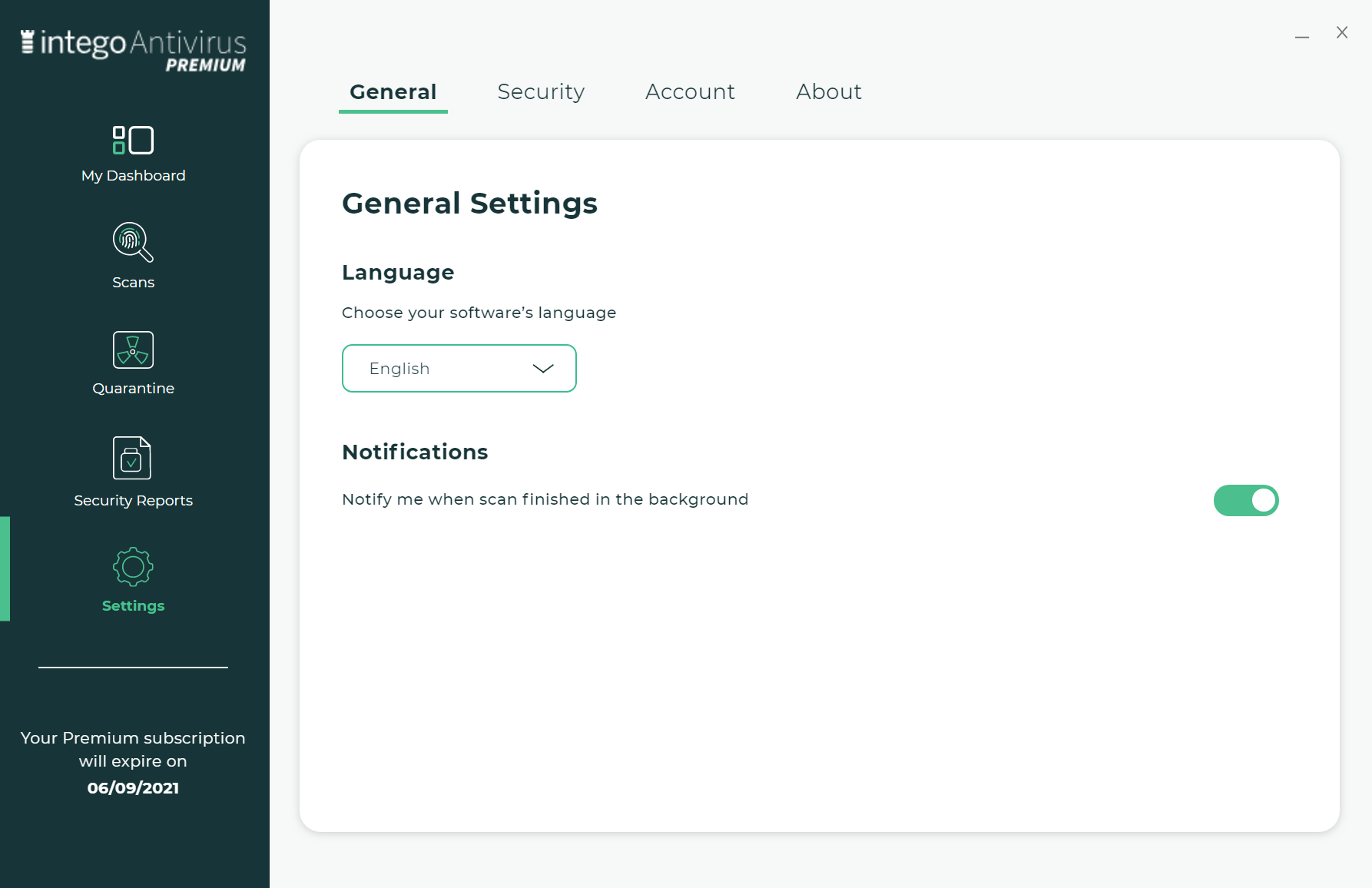 Language allows you to choose the localized text used by the software from the list of supported languages.
Notifications will automatically be displayed when a scan completes in the background. This can be disabled if you prefer not to be notified.
Security
The Security Settings allow you to customize options for Protection, Quarantine, and Reports.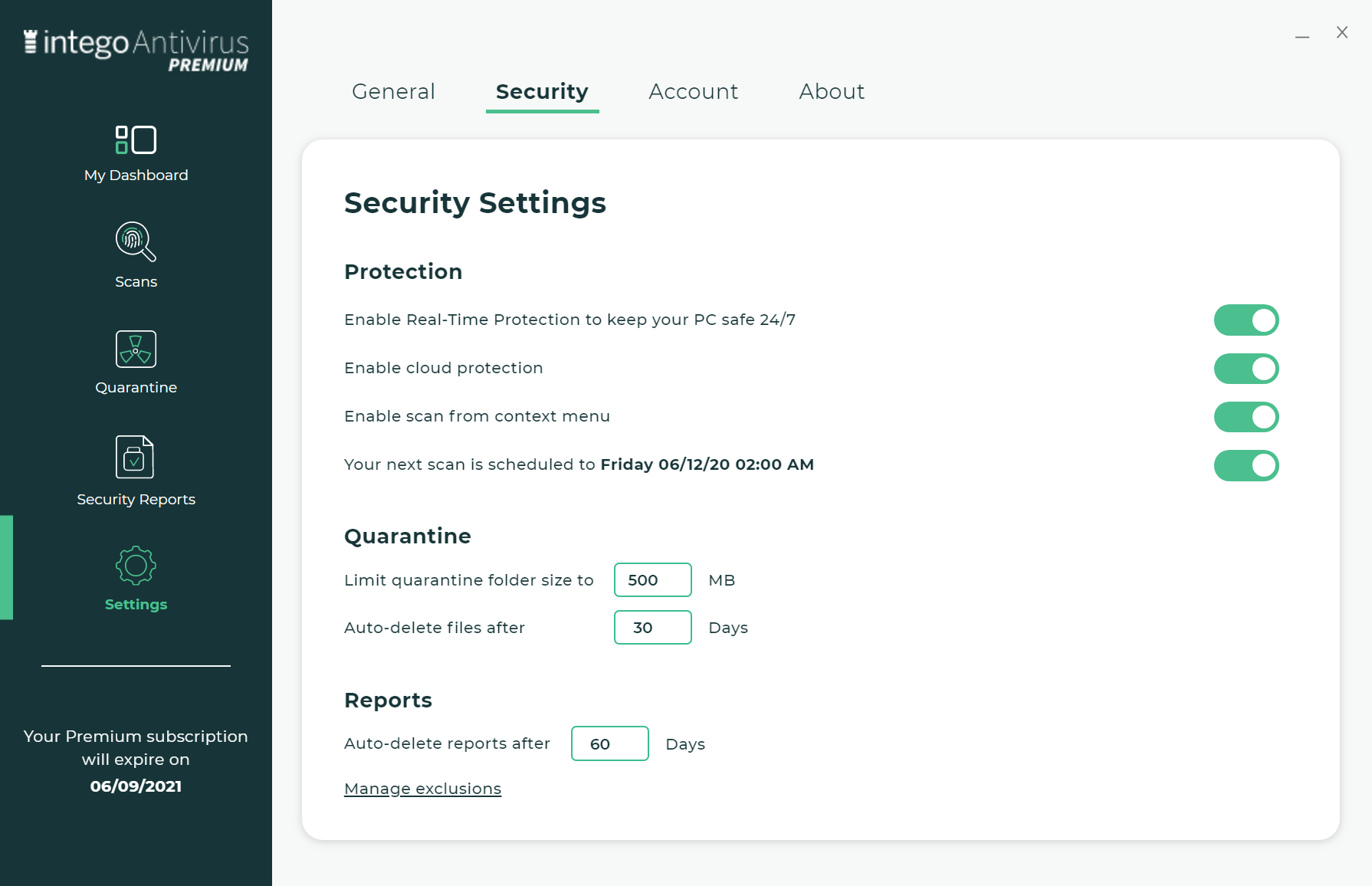 Protection
The following features can be enabled or disabled:
Real-Time Protection: Constantly watches over your PC, protecting you from viruses and malware at all times.
Cloud protection: This is a type of scanning that takes place in the cloud. The digital footprint of unknown files are uploaded anonymously and scanned in real-time.
Scan from context menu: Allows you to scan any file or folder by right-clicking and selecting 'Scan with Intego'.
Scheduled Scan Scans run automatically at pre-arranged times
Quarantine
The settings for the Quarantine allow you to manually adjust the size of the folder where malware is stored and the frequency in which files are automatically deleted.
Reports
Auto-delete reports after a specified period of time.
Account
This section gives information about the software and subscription such as the License type, your License key, Expiration date, and a clickable link to Contact our support team for assistance.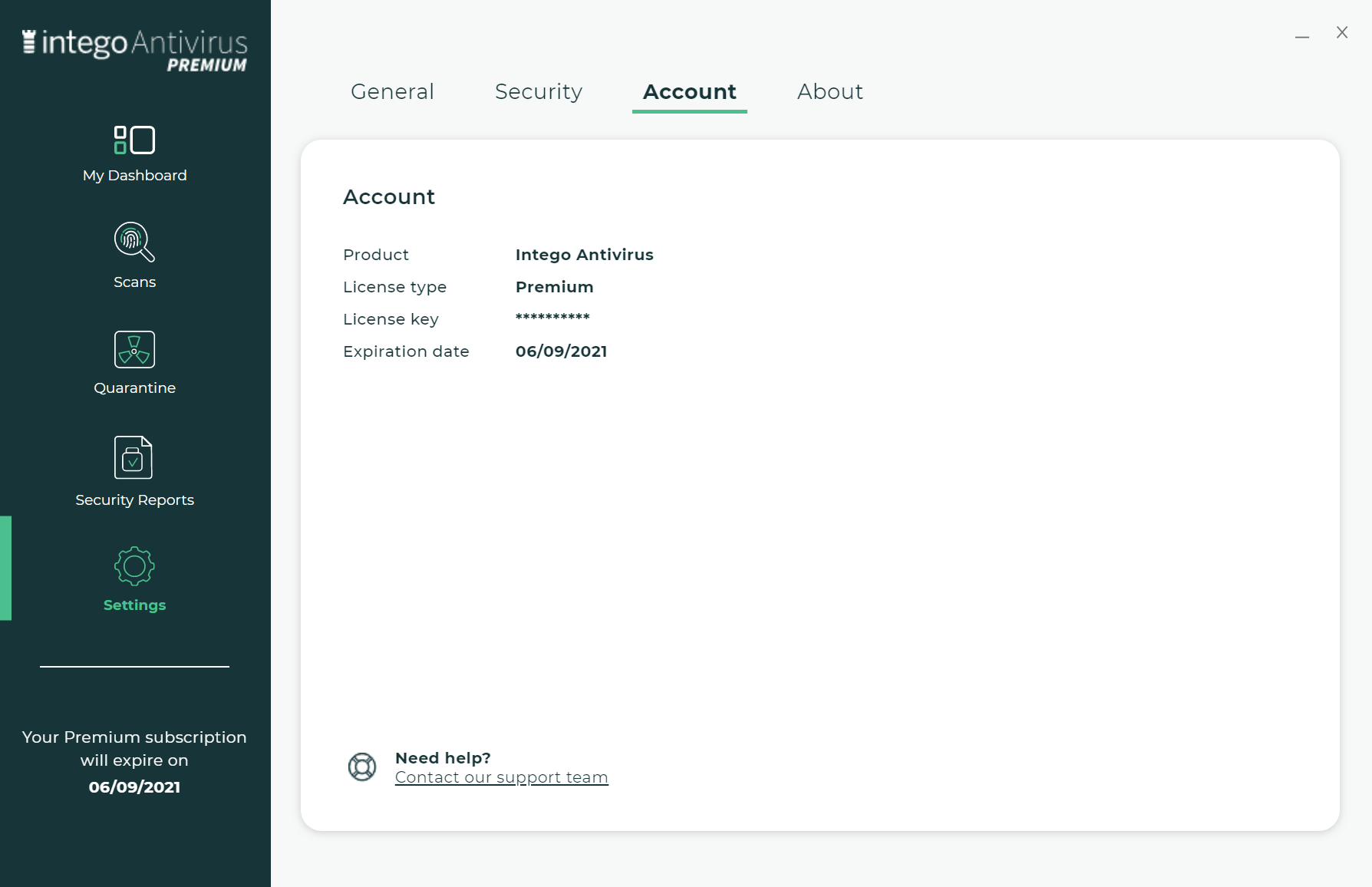 About
Intego Antivirus automatically downloads and installs the latest software updates and virus definitions silently in the background. You can confirm the Product type, Software and Definition versions, and the Expiration date of your subscription from here.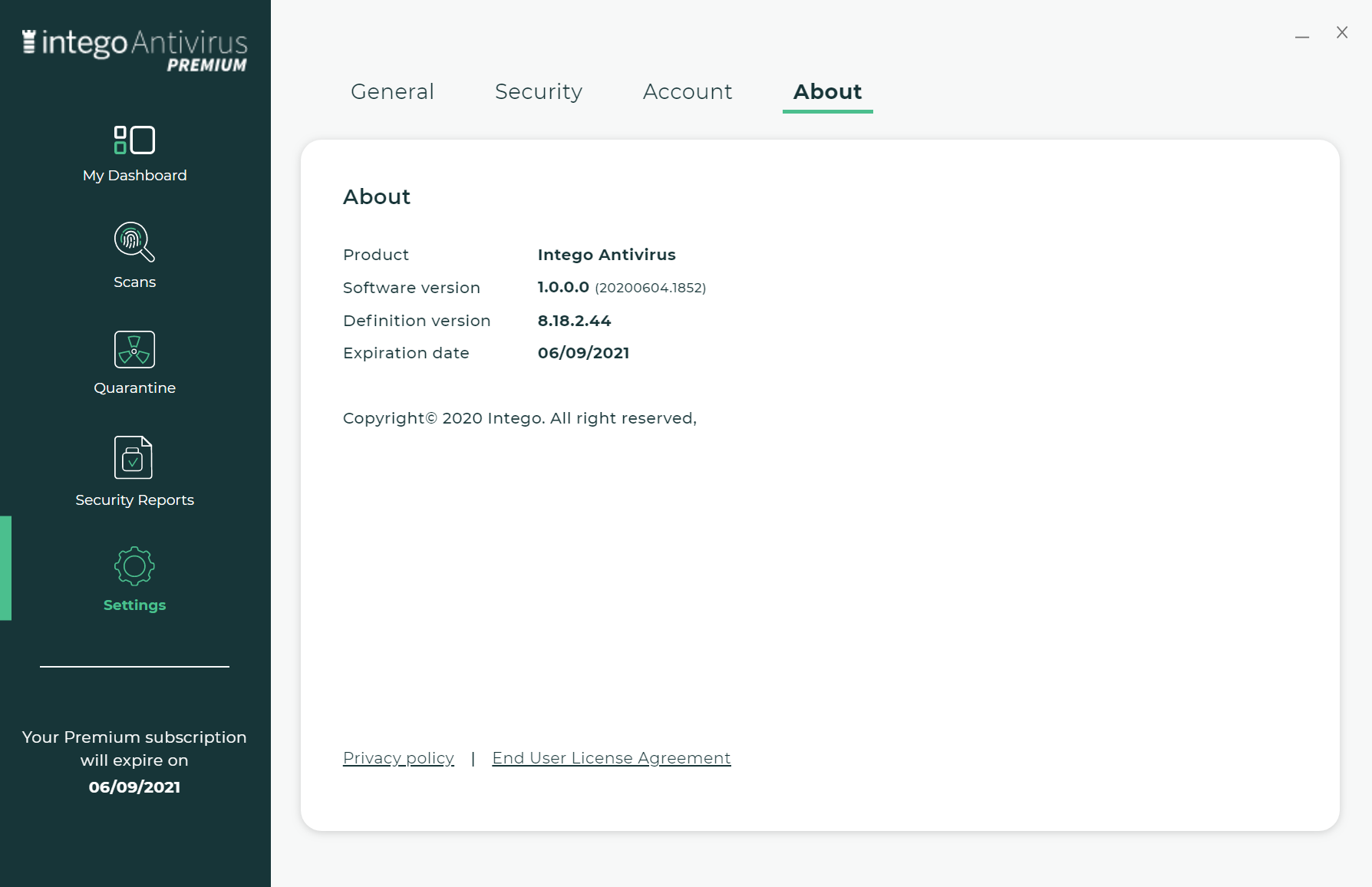 6. Intego Antivirus for Windows Support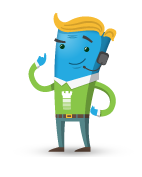 If you still have questions about using your Intego Antivirus software and cannot find the answer in this User Manual, please check our Knowledge Base for answers to the most common questions:
You can also contact our Support Team directly for assistance by completing a support ticket online here: